Swimming Pools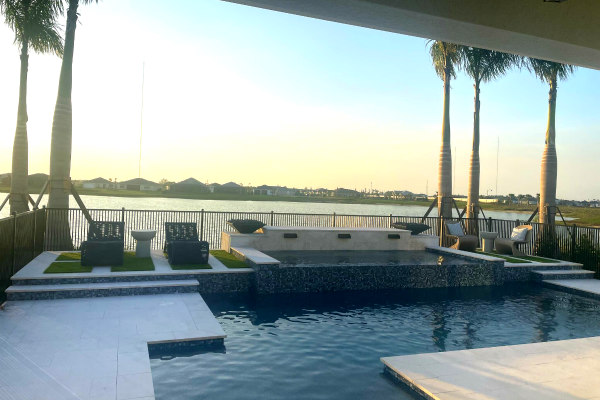 Pools and spas are a natural part of the Florida lifestyle – so much so, many residents move to Florida to enjoy the sun and use of a pool and water year-round. Increasingly, high-end pools are the ultimate home upgrade. Depending upon design, a pool can serve as a relaxing respite, a training area for serious athletes, or a gathering area for family and friends. Here's a quick primer on the different types of in-ground pools as well as some of the current trends popular in Southwest Florida.
Materials
Inground pools are typically constructed with concrete, fiberglass or vinyl pool-liners although this latter option is used more outside of Florida where pool use is limited to several months out of the year.
Concrete Pools
Concrete pools are the most costly to build because they are poured onsite but allow for custom designs of any shape or size and are thus very popular at high-end resorts and in luxury properties. Finishes include specialty coating materials such as Pebble Tec, or plaster and paint.
Fiberglass Pools
Fiberglass pools are made by the manufacturer and delivered in one piece so are less expensive than concrete but don't have the same flexibility in terms of custom shapes and designs. Pools with fiberglass panels are a newer option, and are constructed onsite to allow for more design flexibility.
Infinity Pools
While costly to build and maintain, Infinity Pools can uniquely showcase views of the ocean, mountains and other striking landscapes. They are an elegant way of enjoying the advantages of a pool while taking in Southwest Florida's natural beauty. The hallmark of the infinity pool is a vanishing-edge design which sits just below the pool's water level. This design element allows the water to flow over the wall creating the illusion that the water has no boundaries. Many high-end resorts in waterfront settings tout their infinity pools but you can also build one in your own backyard.
Hot Tubs and Spas
Hot tubs and spas are used interchangeably but both are small, heated pools intended for relaxation or hydrotherapy. Above-ground versions are typically called "hot tubs" while the inground models that come with many pools are termed "home spas."
Lap Pools and Resistance Pools
Many resorts are increasingly promoting their lap and resistance pools. Designed for cardio, a lap pool is long, narrow pool, offering approximately 40 feet of straight, unobstructed swimming space to preclude the need for frequent turns. While lap pools don't accommodate a large number of swimmers simultaneously, they can be ideal for small yards.
Resistance pools are a different animal and sometimes termed "swim spas." A combination of a pool and spa, these pools have jets that force swimmers to swim against a constant flow of water. While the swimmer isn't actually moving through the water, the pool can span as little as 12 feet and is ideal for smaller spaces. Swim spas can also be heated for enjoyment or to rehab an injury with hydrotherapy exercises.
Plunge Pools
Plunge pools are just deep enough for lounging and cooling off, rather than doing laps or playing games.They are ideal for low-impact water exercise and rehabilitation and many times feature an attached spa to vary the experience.
In addition to determining the type of pool and materials, there are three additional elements to consider in your pool design:
Fire and water combinations – fireplaces, fire bowls and fire pits are becoming fixtures in today's modern poolscapes and combine with the waterfront setting to provide dramatic effects. Fire features promote ambiance and warmth while allowing their owners to bask in the company of others poolside.
Lounging ledges – lounging areas are also a staple of many high-end pools and include their own options such as colored lights and modern chairs designed for use in the water.
Pool automation systems – Alexa – please turn on the spa ASAP and dim the lights! This type of scenario is now a reality with the ability to control all of your pool's features remotely from the office, your commute or any other location.
Other Fun Trends
Everyone wants a backyard resort and there are a number of custom pool designers who can fulfill just about any vision. Here are a few of the latest trends in poolscapes:
Multiple levels – many poolscapes rely on cascading waterfalls, rock grottos, and custom spas to create their own lagoon setting.
Different functional options – for large multigenerational families or gatherings, having a wading pool for kids, a spa for the adults, lap pool for serious swimmers, and a water slide for everyone can create multiple areas of enjoyment.
Integrated pool and outdoor kitchens – allow everyone to dine, swim, and socialize all in one place.
Southwest Florida Pool Contractors
As tastes grow increasingly sophisticated, pool designers continue to raise the bar on the ideal waterfront oasis. See below for some of the top pool designers in Southwest Florida in alphabetical order. As always, it's important to check references and read reviews before selecting a vendor:
Since 1992, Coastal Custom Pool & Spa has been building, repairing and servicing pools and spas. The Company focuses on improving construction methods to minimize the time it takes to properly maintain your pool. Recognized for custom designs and outdoor resorts, Coastal Custom Pool & Spa works with you to fit your pool's design to your property, desired shape, and vision.
Established in 1989, Contemporary Pools caters to Collier and Lee County with a range of pool designs, including raised spas, endless pools with multi-level decks, spas, and planters, and decorative water features. Contemporary Pools carefully selects materials and products designed for the Southwest Florida subtropical climate. The Company's workmanship appears in pools in communities such as Gulf Harbour, The Brooks, Pelican Marsh, Quail Creek, Fiddlesticks, and Old Cypress, among others.
With more than 50 years of experience and 10,000 pools built to date, Nassau Pools Construction specializes in the creation and renovation of both commercial and residential pools. All pools are custom-designed to the customer's specifications and backed by a comprehensive service department, including repairs and warranty work.
Superior Pools of Southwest Florida
Since 2001, Superior Pools of Southwest Florida has been constructing pools, completing more than 5000 pools from Bradenton to Naples. Recognized as a Top 50 Pool Builder, the company maintains an experienced staff of 35 full-time employees focused on creating pools and outdoor creations that are true lifestyle enhancements.
Tropical Pools has been building commercial and custom residential pools since 1968, starting with custom pools in California. Today in Southwest Florida, Tropical Pools helps clients build a tropical paradise in their backyard, starting with a custom pool that relies on quality workmanship and the latest in innovative design and materials.
Search For Pool Homes in Southwest Florida