Top Naples Interior Decorators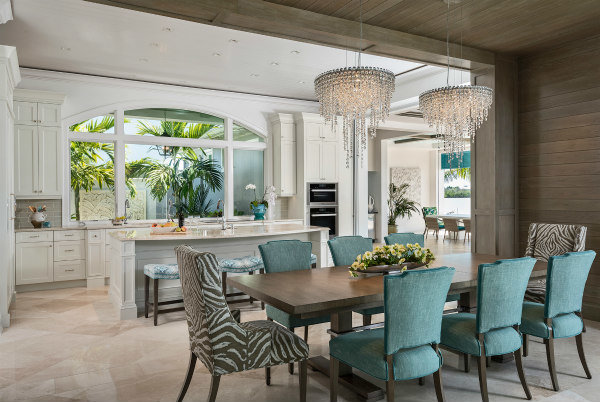 Photo: Jinx McDonald
Hiring a Naples Interior Designer
It's no secret that increasingly home owners spend the majority of their lives in their homes. The right space, color, and harmonious mix of furnishings can not only showcase a beautiful home but more importantly, can uplift, inspire and energize you to live your best life. While most people wouldn't hesitate to hire an attorney for legal issues and accountant for financial planning and tax issues, you reap similar benefits from using a professional such as an interior decorator to design and furnish your home. To help you make your home extraordinary, we've compiled six reasons to hire an interior designer as well as highlighted a few of Naples' top-ranked firms. These benefits are applicable for both new construction and renovation projects in Naples.
You Can Save Money
It's an outdated myth that interior decorators are only for the rich and famous. In reality, most designers can work within any budget and can save clients from avoiding costly design mistakes. Common issues range from purchasing furniture that doesn't fit properly in a room, continually painting the same room to find the optimal color palette or struggling with the proportion of rug and window treatments. Interior designers also have access to materials at a range of prices, including significant discounts that can be passed on to clients. Design decisions made early on to balance functionality with aesthetics can significantly increase the value of your home for potential resale.
You Can Save Time
A designer not only can help keep you on budget but also save you time and effort. Your design partner most likely already has a long list of resources for everything related to your home and can also perform research on additional products, brands and prices that might take you longer to find on your own. Many designers start with an immediate plan of action for your space and will keep the project moving. As many designers will attest, the order of events in a design plan is key. For example, lighting and furnishing needs many times should be addressed before construction to ensure proper placement for floor outlets and adequate lighting for critical work areas. In addition, designers typically have a plethora of home improvement contacts, helping to save time in identifying reliable electricians, plumbers, and other contractors for projects.
Wide Availability of Resources
Designers speak the language of architects, builders, and craftspeople. They frequently have access to outlets for custom items and unique materials and artwork that most homeowners can't visit or purchase from. Even if you have these sort of contacts, you may not always know what to look for. These types of connections help a designer make your space more pulled together.
Uncover Your Look and Aesthetic
A common myth surrounding interior decorators is that they impose their vision and their existing stock of furnishings on you. The best designers help you uncover your look and aesthetic. They will work with you to build around a favorite piece of furniture or artwork. More important, even if you can't articulate your vision for your home, a trained designer will help you uncover and document your individual tastes and lifestyle needs and ensure the design plan incorporates these key points.
Wow Factor
There is a reason a professionally designed home or space has that "wow" factor. Designers are trained to envision space in a way most consumers can't. Good design is a mix of science and art with spatial proportions and color providing that extra oomph.
Increase Resale Value
The enhanced appeal a designer can add to the aesthetic of your home can exponentially speed up the sale of your home once it hits the market. Not only do you sell the home faster but you're able to get a better price on the sale.
Top Naples Interior Decorators
Alexis Marie Interiors
Alexis Marie Interiors focuses on high-end residential design projects, including new construction, condo, and private home renovations. The growing firm's work has included projects at luxury properties Kalea Bay, Quail West Golf & Country Club, as well as the Residences at Mercato, among others. https://www.alexismarieinteriors.com
Calusa Bay Design
Experienced in new construction from concept to completion, Calusa Bay Design also works on residential renovations as well as commercial interior design projects. The team also can assist with everything from window and roof tile selections to room layouts, finish selections, and cabinetry design. Through a combination of thoughtful listening and inspired design, Calusa Bay strives to create welcoming and beautiful homes. http://calusabaynaples.com
Cardamon Design
With projects ranging from single family homes, luxury high-rises and complete renovations, Cardamon Design focuses on getting to know how a client lives, entertains and relaxes before creating elegant spaces that reflect the client's vision and lifestyle. Anchored by experience in CAD, design, and project management, Cardamon Designs was the recipient of several Sand Dollar Awards by the Collier Building Industry Association for Excellence in Design, including Best Master Suite, Best Specialty Feature and Best Outdoor Living Area. The firm's work has appeared in Home & Design and Your Home. https://cardamondesign.net
Clive Daniel Home
With offices in Naples and Boca Raton as well as multiple showrooms, Clive Daniel Home boasts the largest interior design department in Florida. Originally founded as a father and son operation in 2011 after Clive Lubner left Robb & Stucky, the firm provides design services covering everything from the selection of furnishing and accessories to creation of custom window treatments and assistance with flooring, re-upholstery and home automation. 85,000 and 65,000 sf showrooms in Naples and Boca help clients get inspired while experiencing concepts and that just-right piece in a natural setting. https://clivedaniel.com
Fiarra Design Associates
Fiarra Design Associates offers a comprehensive array of interior design and consultation services to residential and commercial clients, builders and architects. Located conveniently on Tamiami Trail North in Naples, the Ficarra Design Center includes a studio offering a comprehensive library and sample vignettes of fabrics and finishes for consideration. This venue provides a relaxed setting to work with clients to review, discuss and finalize choices that will ultimately bring a distinctive energy and elegance to any design project. Materials range from classic, traditional, and contemporary. http://www.ficarradesignassociates.com
Harper Haus Interiors
Harper Haus Interiors specializes in creating environmentally responsible homes and outdoor spaces in Southwest Florida. From large-scale remodels to simple and quick makeovers, Harper Haus focuses on working in organic materials such as reclaimed woods, hand-tufted wool and restored heirloom furniture while helping clients incorporate green living principles into their homes. Harper Haus projects are distinguished by classic presentations punctuated by the use of natural elements such as warm, rich woods and cool calming stones — all coming together in a carefully curated and customized space. https://harperhausinteriors.com
Interiors by Agostino's
Interiors by Agostino's is a husband and wife team specializing in homes, condos, offices, and outdoor living spaces. Despite the Naples headquarters, the firm has worked on projects all over the country. With 25 years of experience, Interiors by Agostino's specializes in taking a client's vision and turning it into a beautifully curated space. https://interiorsbyagostinos.com
Jinx McDonald
Jinx McDonald specializes in creative interiors that combine luxury, sophistication and comfort ideally suited to the Florida climate and lifestyle. Projects range from top-to-bottom interiors for private residences, renovations and builder models. Jinx McDonald works with the International Design Source, an exclusive-to-the-trade resource with access to more than 300 furniture manufacturers and 65 fabric lines to provide optimal pricing as well as the ability to experience pieces in a showroom setting before purchase. https://www.jinxmcdonald.com
Lisa Kahn Designs
Based in Naples, Lisa Kahn Designs serves luxury clients throughout the U.S. and internationally, collaborating with noted architects, builders, and lighting and landscape designers. Lisa's specialities include sanctuary spaces, fine art acquisition, green design, organic kitchens and cooking, as well as design for special needs children and adults. Lisa teaches an online class on design incorporating color psychology, product and textile design, as well as trend spotting. https://findingsanctuary.com
Renee Gaddis
Renee Gaddis is recognized for working with both residential and commercial clients as well as top architects and home builders to create lifestyle spaces ranging from coastal, contemporary to transitional. Her work has appeared in Architectural Digest and The Wall Street Journal, among other publications. As a world traveler, Renée is always incorporating the latest textures, patterns and colors in her designs. https://www.reneegaddis.com
Vera Jaye
Growing up in her family's building construction business, Vera Jaye gained both design and business experience working with talented artisans and contractors to build distinctive interiors and furniture. A former college design instructor, Jaye design combines creativity with technical and construction skills in projects ranging from high-end remodels and renovations to refreshing a distinctive home or rental property. https://www.jayedesign.com
W Design
W Design specializes in high-end residential and commercial work that has been featured in Florida Design Magazine, Elle Decor, Houzz, and Dering Hall, among others. With offices across the country, W Design has built a team of designers with diverse backgrounds ranging from CAD, ASID certified design, procurement, and project management, to offer services in furnishings, interior build-outs, as well as other renovation projects. http://wdesign.com