Turtle Nesting Season On Naples Beaches
Posted by Mark Washburn on Friday, March 6, 2015 at 7:57 PM
By Mark Washburn / March 6, 2015
Comment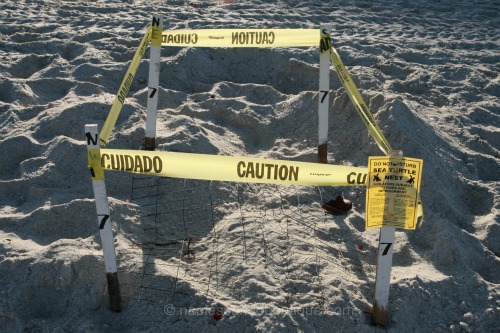 Sea turtle nesting season on Naples beaches is beginning with the advent of spring this month.  From March through October, thousands of sea turtles will arrive from the Gulf of Mexico onto the beaches of Southwest Florida (Atlantic and Gulf beaches) to lay their eggs.  Sea turtles will crawl onto the beach at night and dig a large hole in the sand to lay dozens of eggs, usually 2-3 nests per season.  Eggs begin to hatch after approximately 60 days.  Within the city and county beaches, hundreds of nests are laid each year.

The Florida Fish and Wildlife Conservation Commission requests people not to get too close or disturb the animals with shining flashlights on or taking flash photos of nesting sea turtles.  This will help save threatened and endangered sea turtles by giving them space and privacy to safely lay their eggs.  Other ways to protect nesting sea turtles and their hatchlings include removing chairs, canopies and boats from the beach at night; adjusting cell phone screen to dark mode; disposing of fishing line; and filling in holes dug in the sand during the day.  As the young turtles emerge from the nest, they automatically go to the Gulf by seeking natural light reflecting off the water.  

Naples is one of the largest loggerhead nesting areas in the world.  The nesting season is an important time to conserve these reptiles by taking extra precautions on the beach.  In Florida, loggerheads, leatherbacks and green turtles are the primary species of sea turtles that nest in the state.  Conservation efforts by Florida residents and visitors to the state have resulted in the increase in the number of sea turtle nest numbers in the last few years with hatchlings surviving to adulthood.  In 2014, loggerheads had a good nesting year totaling 86,870 nests recorded throughout the state.