Trio Sea Club Where Naples Meets South Beach
Posted by Mark Washburn on Friday, December 30, 2016 at 4:35 PM
By Mark Washburn / December 30, 2016
Comment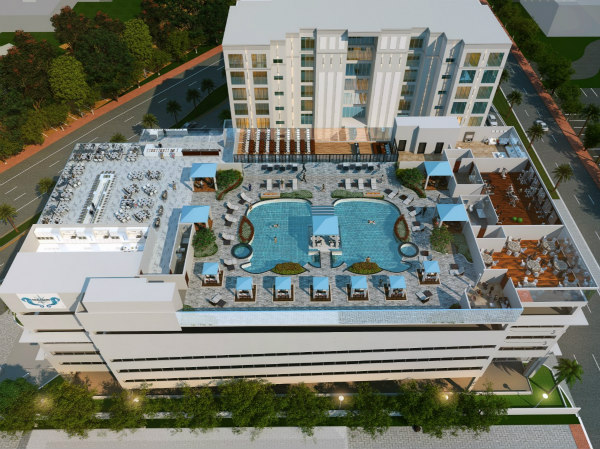 With its private rooftop swimming pool and a mix of resort-style amenities, Naples is set to meet South Beach within TRIO Sea Club, soon to bring ultra-modern design elements and the height of luxury to the downtown area. The club is perhaps the most highly touted addition to the upscale TRIO building, also complete with personal concierge services, poolside cabanas and two spas.

In addition, the club is set to include sweeping Downtown Naples views, plus a fully equipped fitness center, restaurant and room for hosting private events. It's no surprise that the design of Sea Club likely conjures up images of South Beach, considering it was at least partially designed after one of Miami's South Beach clubs. For the City of Naples, though, the exciting new Sea Club is already making headlines, with expected sleek features promising to set this project far apart from the rest.

Sea Club is just one part of TRIO, a nine-story building being constructed at the entrance of Fifth Avenue South. The three-sided development is also set to include two-dozen luxury condos and another two-dozen extended-stay hotel rooms. While the private rooftop swimming pool and club will be new additions to Naples, the luxury features of TRIO extend on to the private residences.

The homes are set to include elegantly designed, open floor plans with massive floor-to-ceiling windows and impressive views. Other desirable features include the large balconies, priced upwards of $1 million for three-bedrooms and 3.5-baths and between 2,400 to 2,700 square feet of living space. Along with the exceptional building amenities, residents will be offered a discounted membership to Sea Club.

Basic memberships to Sea Club start at $20,000 per year, with the option of premium and corporate memberships for an additional cost. It's expected that the first residents of TRIO will be able to move in by summer 2018.