Town of Big Cypress Offers New Vision in East Naples
Posted by Mark Washburn on Monday, May 17, 2021 at 1:58 AM
By Mark Washburn / May 17, 2021
Comment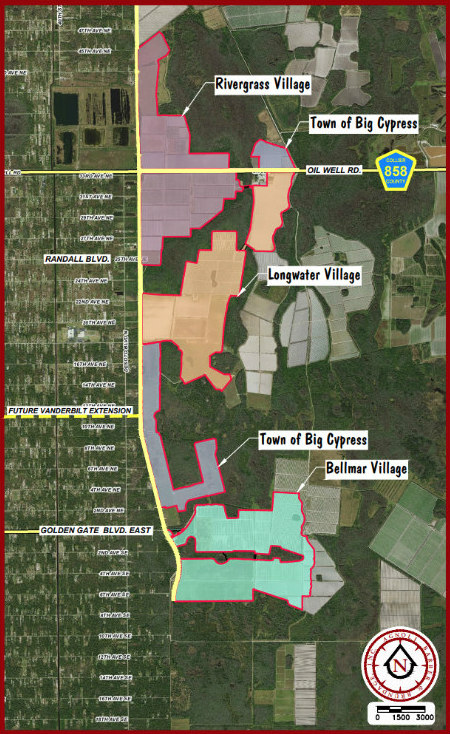 A new town with a brand new vision could be coming to East Naples. Developers hope to soon transform eastern Collier County with new homes, jobs, schools, restaurants and a community park.
The Town of Big Cypress is planned to anchor three villages and become a destination in itself. The developer already has approval to build Rivergrass Village.
Later this month, county commissioners will take up a request for Longwater Village and Bellmar Village. Altogether, the three villages are expected to include space for 8,300 homes and make room for a projected 11,000 residents.
Plans call for the area to be an attractive option for a variety of future homeowners, including families, retirees, and second-home owners.
Once all of the villages are approved, the developer will then apply for town permits. That could come in early 2022.
Plans for the Town of Big Cypress include a town center with grocery stores, restaurants, a large park and retail space. The town's also expected to bring medical and dental offices, health clubs and fitness facilities to the area in the future.
Other plans call for adding in bike paths and sidewalks to connect the villages, as well as the inclusion of hundreds of affordable housing units. More than 12,000 acres in the area will be kept as preservation land.
While the town won't be cut off from the rest of Naples, its design aims to make it into its own self-contained, sustainable community. It's expected the town will eventually bring in more than 6,000 jobs to this part of the county.
The future site of Big Cypress sits close to Oil Well Road and the future Big Cypress Parkway. The location east of Golden Gate Estates is expected to benefit existing residents of other nearby communities, as well, by bringing in even more employment opportunities, retail shops, recreation and other services.