Tin City: Naples Waterfront Marketplace
Posted by Mark Washburn on Monday, January 27, 2014 at 10:18 PM
By Mark Washburn / January 27, 2014
Comment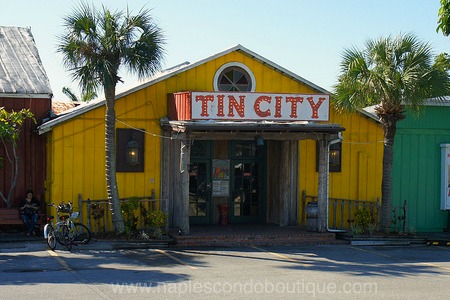 Tin City's charming boardwalks, tin-topped buildings and bayfront shops and eateries overlook the working docks of Naples Bay. Tin City is an air-conditioned indoor marketplace that recalls Naples' nautical past. The heart of Naples' waterfront is its area waterways. In the 1920s, Tin City's tin roofed buildings were the hub of economic development and transport made possible by the railroad. This stretch of the Gordon River waterways as a result became the center of Naples' fishing industry, including clam shelling, oyster processing and boat construction. Today, Tin City holds its historic Old Florida charm, including a mix of more than 40 quirky local shops, 2 waterfront restaurants and a wide range of water and boating activities for all ages.

There is a cool history show room at Tin City where you can view "A History of the Waterfront," and look at old photos, maps and hear locals tell their stories. For great seafood, Pincher's Crab Shack and Riverwalk are located here, plus M & M's Café for sandwiches and ice cream and a bakery. Tin City is a fun place to enjoy lunch or dinner along side waterfront views, and stroll through the local shops. For a unique experience, step into Al's Tin City Magic Shop where the owner takes time to talk magic and show you a few magic tricks.

For water activities, Cruise Naples offers a variety of boat charter and sightseeing cruises and dolphin watches. You can also take a deep-sea fishing excursion, jet-ski or enjoy a sunset cruise and explore the waterways. To get to Tin City, follow U.S. 41 to the heart of Naples, where Goodlette Road meets U.S. 41 at the Gordon River Bridge. Free parking is available, as well as valet parking in the peak winter season.