The Quarry: Pulte Homes Offering Ten Floor Plans
Posted by Mark Washburn on Friday, June 14, 2013 at 10:37 AM
By Mark Washburn / June 14, 2013
Comment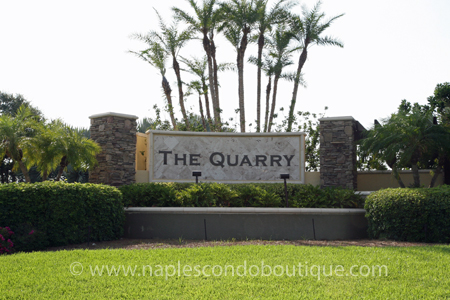 The elegant lakeside resort, The Quarry, is tucked within a lush natural preserve allowing residents to enjoy the beauty of Southwest Florida. Twenty minutes to area beaches and 10 minutes to I-75, The Quarry is centrally located at 9080 Siesta Bay Drive in North Naples.  Residents are greeted by a guard in this gated community built around three lakes made up of 500 acres of connecting waterways.  Water sports are plentiful here, including boating and fishing.

The center of The Quarry community is The Beach Club and Lake Lodge overlooking a sandy beach.  The Beach Club offers a bar, grill and a variety of amenities, including a fitness center, spa, Tennis Courts and lagoon-style pool and lap pool.  Golf on an 18-hole championship course, a pro shop and more dining options can also be found here.  The golf lodge features a formal restaurant and bar, as well as Bocce Ball courts and a card room.

Pulte Homes is offering 10 different floor plans at The Quarry, allowing buyers to customize their homes.  Homeowners can select from carriage, single-family and estate homes in a variety of neighborhoods in The Quarry offering lakeside living.

The 10 floor plans range in size from 2-4 BR/2-3 BA, and 1,641-3,110 SF.  Homes are priced from $217,990-$477,990.  There are 1 and 2-story homes; upgraded kitchen and bathroom appliances and fixtures.  Pulte Homes has made all of these energy-efficient homes.  The 10 floor plans are:
Cheshire - 2 BR/2 BA/1,654 SF, priced at $217,990;
Tourmaline - 3 BR/2.5 BA/2,297 SF, priced at $252,990;
Mackenzie II - 3BR/2 BA/1,641 SF, priced at $282,900;
Vanderbilt - 3 BR/2 BA/1,911 SF, priced at $308,990;
Bellingwood II - 2 BR/2 BA/1,811 SF, priced at $320,990;
Barrington II - 2 BR/2 BA/2,173 SF, priced at $369,990;
Cameron -  BR/3 BA/2,384 SF, priced at $402,990;
Dartmouth II - 3 BR/3 BA/2,547 SF, priced at $417,990;
Jamison II - 3 BR/2 BA/3,110 SF, priced at $469,990; and
Windsor II - 4 BR/3 BA/3,078 SF, priced at $477,990
Currently, both new construction and resale homes area available at The Quarry.  Here is a resource to learn more about and view active Quarry real estate listings.