The Naples Pier: Historic Landmark
Posted by Mark Washburn on Monday, May 13, 2019 at 1:18 PM
By Mark Washburn / May 13, 2019
Comment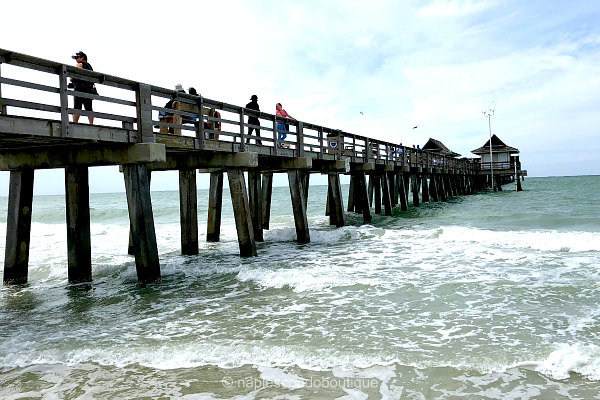 A great place to catch a sunset, fish or spot dolphins; the Naples Pier is also a historic landmark. The 1,000-foot long pier provides a place to take a stroll, take in some scenery and also soak up some history in Downtown Naples.
Originally built in the late 1800s, the pier first served as a freight and passenger dock. Soon, though, the pier became a location to do much of what you still see visitors do today, including fishing or simply take a stroll. At one time a post office even stood at the foot of the pier.
The Naples Pier has been rebuilt a number of times through the years due to hurricane damage and even a fire. Fast forward to just a few years ago and a major reconstruction project at the pier wrapped up, bringing a new deck and expanded facilities to accommodate the estimated one-million people who visit the pier on a yearly basis.
The pier now offers restrooms, beach and fishing supplies, plus a concession stand with a covered eating area. For fishermen, the pier is particularly good for catching trout, mackerel, red snapper and grouper.
If you plan on visiting, you'll find the pier on the western end of 12th Avenue South. It's free to visit the pier and it's free to fish. You'll also find beach volleyball nets nearby for added fun.
Some on-street parking is available at the pier, or you can try your luck with a parking lot about a block away. Other possibilities including parking at both ends of the beach. You'll either need a beach parking permit or you'll need to pay for parking.
To learn more specifically about the history of the pier, though, you'll want to head to The Palm Cottage House Museum. It offers weekly tours discussing not only the Naples Pier, but also some other notable Old Naples landmarks.