The Gables & Jumbo Bay New Construction in Old Naples
Posted by Mark Washburn on Tuesday, July 16, 2013 at 3:57 PM
By Mark Washburn / July 16, 2013
Comment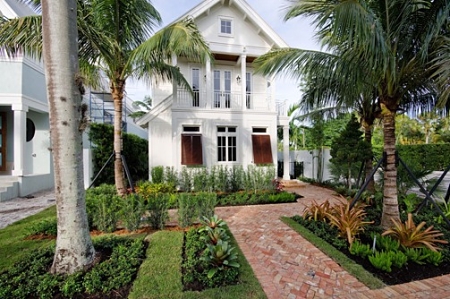 In the heart of downtown Old Naples, luxury meets convenience at The Gables where seven classically-designed homes span an entire block that combines the luxury of a big home but the price and convenience of a condo. The seven homes stretch a city block at 6th Street South from 1st Avenue South to Central Avenue. Only 1 home is left---six of the seven homes have already sold---and Naples Redevelopment is planning nine more of these homes nearby since buyers are embracing this popular concept of upscale, classic style in Old Naples that is ideal for young professionals as well as for empty nesters or for a vacation house.

The upscale Gables homes each have a unique exterior and feature top-of-the-line details in the interiors, focusing on a spacious contemporary look to fit in with a modern Naples lifestyle. The single-family homes at the Gables on 6th offer 3 BR/3.5 BA/2,800-3,300 SF/2-car garages; pool and spa. The remaining home is priced at $2.695 million, and is fully furnished.

Since downtown Naples has a lot of condos, the developers decided to build single-family homes that could compete with the condo market price-and-size wise. The Naples Redevelopment firm and Jeff Harrell Architecture and MHK Design have come together to preserve an Old Florida theme and build uniquely-crafted homes that blends the exteriors into their landscaped surroundings, featuring an outdoor living area with a glass floor that soars above part of the pool; custom-designed hardwood floors built in Ireland; marble countertops and high-end appliances; and an open floor plan. The concept is popular: high-end new homes built on smaller lots and using every inch of space to provide cozy intimacy for their owners.

SInce the Gables on 6th sold so quickly, a similar development called Jumbo Bay is planned along 9th Avenue South. The 9 new gabled homes of Jumbo Bay will include 3-4 bedrooms, ranging in size from 3,200-3,400 SF.