The Dunes Upgrading Amenity Center
Posted by Mark Washburn on Saturday, May 5, 2018 at 11:36 AM
By Mark Washburn / May 5, 2018
Comment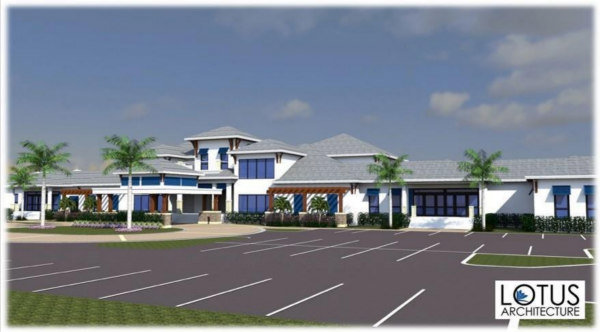 Rendering: Lotus Architecture
The Dunes of Naples is fully upgrading its clubhouse, this time once again starting from the ground up. Plans call for not just a few updates to the structure, but a complete demolition of the community's existing clubhouse, followed up by the rebuilding of a new amenities center in its place.
The massive new center will be freestanding, with more than 25,000 square feet of amenities spread across the two-story building. Plans call for a private dining room plus another indoor and outdoor dining area and a bar.
As well, the center will additionally feature an expanded kitchen, with room for community meetings, activities and offices on the second level. The new pool area plans to offer up even more seating than ever before, with an expanded Tiki bar and fire tables for gathering with friends, family and neighbors. The Dunes already offers its residents access to a full-service tennis program, with clinics, special events and the possibility of inter-club teams.
In all, The Dunes is home to more than 600 private residences, with a total of seven luxury towers and a series of coach homes making up the community. Constructed mostly around the early 2,000s, many of the residences of The Dunes are priced upwards of $ 1 million.
This affords residents with the enjoyment of a great deal of square footage, complimented by some private outdoor space and some impressive shared features. While some of those added amenities are unique to each tower within The Dunes, some are soon to be updated with the newly constructed amenities center at the site.
The waterfront community of The Dunes sits in North Naples, mere minutes from the white sand and blue water of Vanderbilt Beach. This serves up the opportunity for outstanding views of the beach and the bay.