Tamiami Trail Put Naples On The Map
Posted by Mark Washburn on Friday, March 7, 2014 at 3:24 PM
By Mark Washburn / March 7, 2014
Comment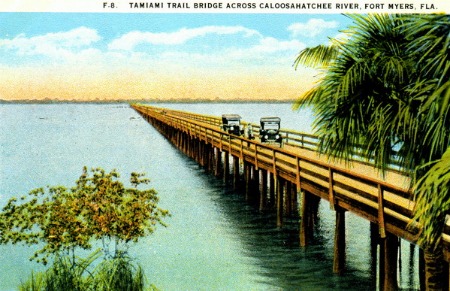 The 264-mile highway between Tampa and Miami was constructed across 76 swampy miles over 85 years ago.  It took 2,000 workers five years to complete the complicated, massive project.  The opening of the Tamiami Trail, the east-west portion of U.S. 41, which runs from Naples to Miami was a critical step in developing the region. The east-west portion from Naples to Miami put Naples on the map.  Naples is thriving due to the convenience that came with the completion of the Tamiami Trail.
 
Baron Collier's master plan to develop the region included building a modern highway in the Florida Wilderness to link the newly created Collier County to Florida's main cities of Tampa and Miami.  He began the project with more than $1 million from his own money.  For the first time, cars could travel across the southernmost tip of Florida, which opened Collier County to economic development and new homebuyers.

To make the drive now, it takes 6 hours to drive the 270 miles from Tampa to Miami.  The last section of Highway 41, known as the Tamiami Trail, was built through forest and swampy Everglades to connect Tampa to Miami.  The drive is very scenic with a mix of old and new Florida.  The Tamiami Trail has been designated a National Scenic Byway by the U.S. Department of Transportation for its unique scenery in the Everglades and the Big Cypress National Reserve.  The swampy big Cypress National Reserve is home to the American crocodile, the West Indian manatee and wood stork.  The scenic trail that goes through the Big Cypress National Reserve runs a total of 1,400 miles and goes from the Gulf Islands National Seashore to the Big Cypress National Reserve with short trails, hikes and ranger programs.  The scenic drive ends in Miami with a wealth of outdoor recreation options, shopping and dining.