One Naples Project Continues
Posted by Mark Washburn on Monday, August 17, 2020 at 2:02 PM
By Mark Washburn / August 17, 2020
Comment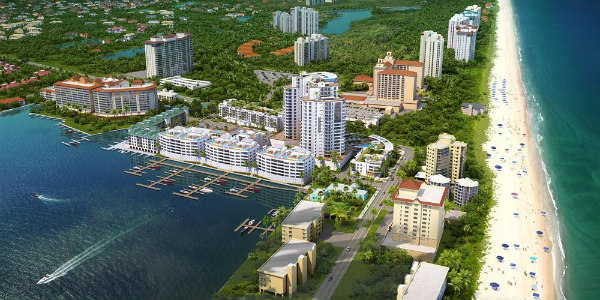 Plans continue to evolve and push ahead for the new One Naples project of North Naples. It's been an ongoing process for years now, as the developer makes some additional modifications in hopes of appeasing nearby neighbors.
A few months ago, Stock Development downsized its project to 172 total residences, and reduced the height of the two towers to 14 floors atop two stories of parking. The developer also scaled back on the height of the property's mid-rise buildings and scaled back on the amount of commercial square footage planned for the development.
Other plans put forth by the developer including adding in more landscaping to Gulf Shore Drive, Vanderbilt Beach Road and Southbay Drive. Plans also call for things like public artwork, improved street lighting, new sidewalks and a connected bike lane in the area.
The idea is to fully integrate One Naples into the already established Vanderbilt Beach area, giving the illusion that it's been at home in the area for years. The vision of One Naples, however, is to make it into a unique destination all its own, complimented by a resort-style lifestyle in Naples.
That's due in part to some of its upscale planned amenities. Eventual additions include fitness centers, swimming pools, fire pits and cabanas, as well as a marina on Vanderbilt Lagoon. Most of those marina slips will be made available to residents of One Naples.
Still, the overall project hasn't been without controversy. Some neighboring residents have rallied against the size of One Naples in the past, arguing the large development is too grand for the neighborhood.
Despite this, developers plan to push ahead with a project that's already been years in the making. Some estimates project it could take about two years to build the condo tower, but less time to construct the property's mid-rise buildings.