Old Naples: The Early Years
Posted by Mark Washburn on Wednesday, February 3, 2016 at 3:49 PM
By Mark Washburn / February 3, 2016
Comment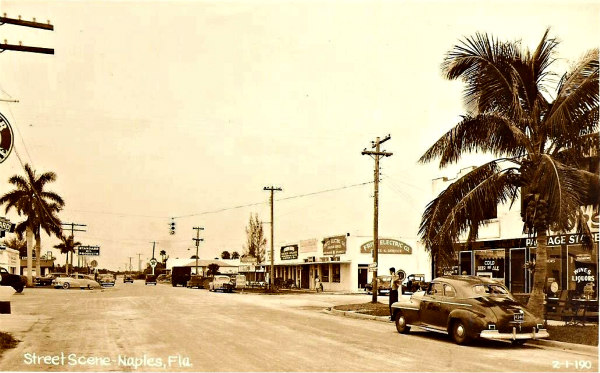 The sun-drenched white sugar sands and miles of beaches of the southwest coast of Florida in the late 1800s appealed to financiers, such as Walter Haldeman, the owner of the Louisville Courier Journal newspaper. Haldeman and Louisville senator, General John. S. Williams were looking for a winter retreat for themselves and their families. They sailed down Southwest Florida and discovered paradise when they sailed to present day Naples. The sunny peninsula looked a lot like the Italian peninsula for which they named it---much like the Mediterranean seaport town.

In 1888, Olde Naples Pier was constructed, a T-shaped wharf in the 18-foot water on the Gulf side. The wooden pier was where passengers and freight were loaded and unloaded, entering Gordon Pass and sailing up into Naples Bay. This is where passengers disembarked on their way to a hotel developed by Haldeman and Williams. After several hurricanes, the pier would be re-built to sturdier standards. But, it was Hurricane Donna in 1960, when the pier collapsed under Category 5 winds and water. After the two men bought land and sold lots to make some money, they located a 16-room hotel at the center, and the first guest was Rose Cleveland, the sister of President Cleveland.

Ed Crayton came to town from St. Petersburg in 1913 as a successful land developer, and he started working on Naples development through the 1930s. The first road completed in 1918 was South Tamiami Trail North to travel to Miami and Jacksonville. Later, Tamiami Trail East was constructed from Naples to Miami. Some important changes took place: In 1926, electric power came to Naples; rail service in 1927; and the Tamiami Trail was completed in 1928. Naples remained a small lovely town along the shores of the Gulf. In the 1930s, winter visitors came to Naples to enjoy the warm weather, beaches and golf. At that time, downtown Naples was made up of a few businesses three blocks east and west of US 41 on Ninth Street South, unlike the current day where Naples is a destination with many businesses for visitors.