New Luxury Villas at Traditions in Grey Oaks of Naples
Posted by Mark Washburn on Friday, June 22, 2012 at 7:18:24 PM
By Mark Washburn / June 22, 2012
Comment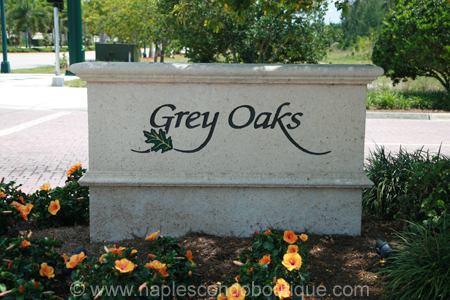 The "Traditions" development at the exclusive Grey Oaks community in Naples, Florida, recently announced that construction has started on three luxury villas that are expected to be completed and ready for occupancy by fall 2012.  The new construction marks the first milestone against a plan of building out 60 luxury coach homes and 62 single-family villas.    The acclaimed Grey Oaks community is located North of  Golden Gate Parkway off Airport-Pulling Road.  Known for its majestic golf facilities offering 54 holes across three courses, the community also features an elegant country club and facilities.
 
The proposed single-family villas include three different floor plans to accommodate different lifestyles and range from $690K to the mid-$800s.  The Villas are all "decorator-ready" and feature special touches such as a mahogany front entry and Santa Barbara style architecture.  Buyers can select cabinetry, flooring, and countertops to customize their villa to their specific tastes.
 
At the high-end, the two-story, 4476-ft  Carillo plan offers four bedrooms, four and a half baths, a den, and formal living and dining areas.   The upstairs features a loft while added amenities include a two-car garage, golf cart space, and outdoor living area.
 
The 2642-sf Alegria and 3319-sf Bregante plans offer luxury on a single-story.  Both plans include a spacious island kitchen, family room, den, and formal living and dining areas.   The Alegria features two bedrooms and 2.5 baths with a base price of $690K as well as a lot premium.  At $740K, the Bregante includes three bedrooms and 3.5 baths as well as a lot premium.
 
If you would like to explore ownership opportunities at Grey Oaks, here is a resource to view active Grey Oaks real estate listings and learn more about the community.