Naples Winter Wine Festival 2014
Posted by Mark Washburn on Thursday, January 30, 2014 at 12:54 PM
By Mark Washburn / January 30, 2014
Comment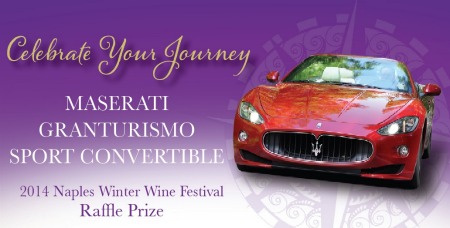 Wine Spectator magazine calls the Naples Winter Wine Festival "the most successful charity wine auction in the nation."  This annual event, which started in 2001, brings the world's finest vintners and chefs together with wine collectors and philanthropists for a spectacular 3-day Gala in Naples.  Luxury Institute ranks the Naples Winter Wine Festival among the Top 10 arts and entertainment events for wealthy Americans---a ranking based on prestige, exclusivity and quality.

To attend the festival, it costs $8,500 per couple to just walk in the door.  But once you walk in, you'll find yourself among Michelin-starred chefs and top sommeliers.  The Naples Winter Wine Festival was recently held this year over the weekend of January 24-26.  The auction took place under the tent at The Ritz-Carlton Tiburon Golf Resort in Naples.  Some of the auction items this year were wines, cars, jewelry and amazing trips.  The grand raffle prize was a Maserati Granturismo Sport Convertible.

The festival featured the culinary talents of 16 of the world's greatest chefs this year.  Bill Telepan, of Telepan Restaurant in New York, was the Chef de Cuisine and Krug was the Honored Vintner.  On the eve of the wine festival Gala, the first night featured 15 chefs preparing 4-course dinners paired with wines for up to 25 guests in private homes throughout Naples.

This exquisite event benefits the Naples Children & Education Foundation, with proceeds targeting local charities that help underprivileged and at-risk children.  In its 14th year, the Naples Winter Wine Festival has raised more than $110 million for children in need.