Naples Tops Nationally for Well-being
Posted by Mark Washburn on Wednesday, May 8, 2019 at 3:37 PM
By Mark Washburn / May 8, 2019
Comment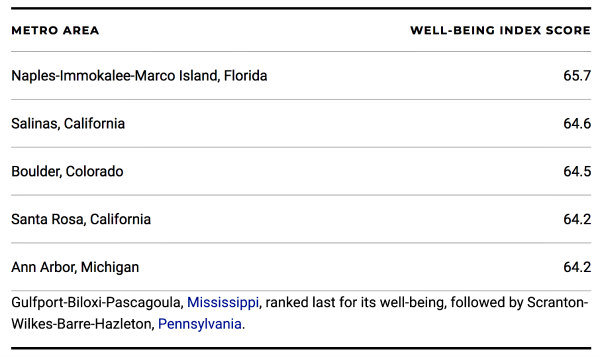 Graphic: U.S. News & World Report
There's no doubt Naples is a great place to live, work and play, but it turns out Naples is tops when it comes to your well-being, as well. According to a newly released Gallup report, the Naples metro area takes the top spot when it comes to more than 150 other communities across the nation.
The annual National Health and Well-Being Index takes a look at five main categories including physical well-being, community well-being, financial well-being, social well-being and career well-being. Gallup surveyed around 10,000 people each month in both 2017 and 2018 to come up with the data, then averaged the two years together.
This is the fourth year in a row that the Naples metro area has landed in the top spot. That hasn't happened for any community in more than a decade.
While its overall well-being index score dropped just slightly in the latest ranking, Naples still took the top spot for community well-being, financial well-being and social well-being, giving it an overall number one ranking once again.
Area leaders point, in part, to a healthy lifestyle improvement initiative that came to the Naples area several years ago. The Blue Zones Project of Southwest Florida helps promote improved longevity and healthy lifestyle changes.
In particular leaders are promoting the improvements made to area biking and walking trails that help lead to more physical activity and outdoor recreation in the Naples area. Local health leaders additionally point to another key ranking for the Naples area. Collier County was also recently named the state's second healthiest county by the Robert Wood Johnson Foundation.
As for the Gallup report, other top metros to make it on the recently released list are located in California and Colorado. Cape Coral-Fort Myers also ranked particularly well in the study, coming in at number six on the list.