Naples Top Market For Economic Growth
Posted by Mark Washburn on Monday, July 6, 2015 at 10:24 PM
By Mark Washburn / July 6, 2015
Comment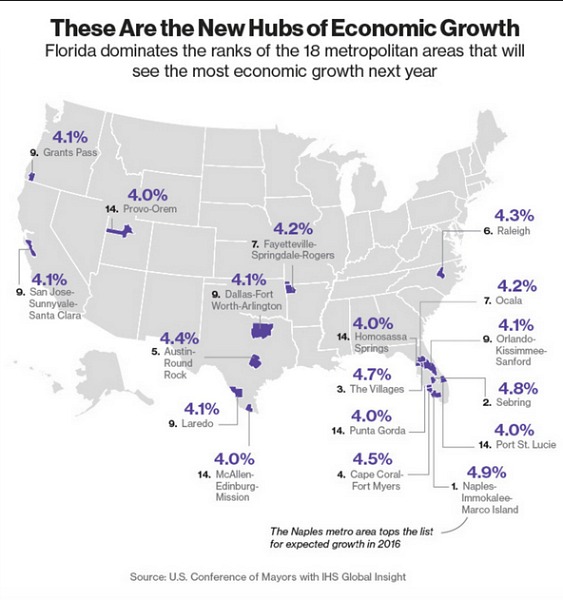 Florida's retirement communities are economically booming thanks to a surge in Baby Boomers, and Naples is the #1 city to see the most economic growth in the United States, according to an article in Bloomberg News last week.  Naples topped the list of metropolitan areas that will see the most economic growth in next year, according to a new report from the U.S. Conference of Mayors.  Naples has made it through the last recession and is pleasantly rebounding.  The Naples economy is predicted to grow 4.9 percent next year, making it the leader and hub of economic growth in Florida as well as the United States.  Behind Naples is another Florida destination---coming in at #2 is The Villages followed by #3 Cape Coral-Fort Myers at 4.5 percent.  

Florida, overall, dominates the list of 18 metropolitan areas that will grow more than any other metro area in the country in 2016.  In past years, oil and gas energy-rich towns have dominated the fastest growing economies in America, but the energy boom in Texas and other parts of the Southwest and Midwest are fading.  The Naples-Marco Island metropolitan area in Collier County is leading Florida with more jobs, more income and a booming housing market.  The area is very friendly to business as well.  The demand for housing continues to raise single-family median prices for existing homes.  Throughout Florida, fewer foreclosures, continuing in-migration patterns, lower gas prices and strong job growth, especially in construction, define the expected economic boom.  A strong dollar may unnerve some international buyers from buying homes, but they are being balanced by other people who will invest in this area as a safe haven against their own country's weaker currency.  

For Naples real estate, more demand will roll into the market.  Demand goes up as rising prices for new homes are a factor in higher prices for similarly sized older ones; equity-rich cash buyers from more expensive regions of the U.S. can afford to bid up home prices; and buyers taking advantage of the low interest rate are expected to make more home purchases.  Demand for real estate will positively affect the housing market in Naples.  Retirement communities like Naples have rocketed to the top of the economic growth list because Baby Boomers are retiring at higher rates.  Approximately, 10,000 Baby Boomers will turn age 65 every day for the next 15 years, and many will be drawn to the warm climate and upbeat lifestyle to places like Florida to retire.