Naples Top in Job Growth
Posted by Mark Washburn on Tuesday, August 19, 2014 at 10:13 AM
By Mark Washburn / August 19, 2014
Comment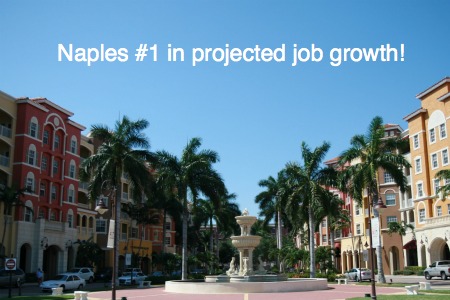 Naples is a jewel for many reasons and here is one of them: Naples is expected to lead the U.S. in new jobs through 2016.  Naples heads the list of Best Cities for Job Growth.  A new report from Moody's and Forbes magazine projects Naples to have a whopping 4.1% job growth, tied with Austin, Texas, for the #1 spot among 200 large metropolitan areas.  Other Florida cities in the Top 10 are Fort Myers/Cape Coral and Port St. Lucie.

Some of the main reasons, according to Forbes magazine, for projected employment growth in these Florida cities are attributed to increased spending on construction, consumer goods and tourism.  Florida has crawled back from the financial crisis and recession in 2006.  The employment outlook is bright for some Florida cities, especially Naples.  Population growth fuels key industries like housing and retail.

Migration to Florida has added retail jobs at lightening speed and is the fastest rate of any state last year, and Naples again was the top market.  With Naples standing firm as one of the wealthiest retirement areas in the nation, many retirees have big nest eggs that have grown with strong personal financial gains in the markets.  This fuels spending on construction and consumer goods, spurring more tourism, key to the South Florida market and sending Naples to the top of the heap in job growth in the nation.