Naples Top City for Well-Being
Posted by Mark Washburn on Saturday, March 18, 2017 at 8:23 AM
By Mark Washburn / March 18, 2017
Comment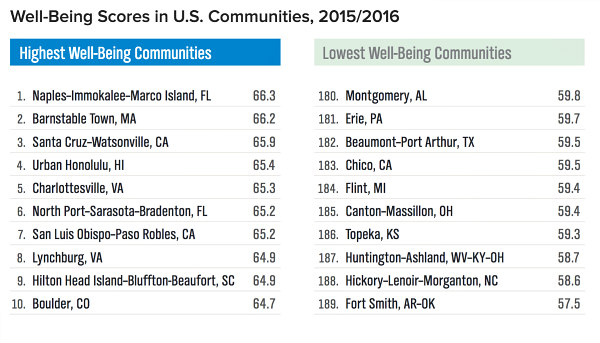 Graphic: Gallup and Healthways
The City of Naples is not only one of the most coveted places to call home, but it turns out the city is pretty great when it comes to overall well-being and happiness, too. That's according to a new Gallup-Healthways survey, giving the top spot to Naples for the second year in a row.
The report takes a look at the well-being and health trends of people living in cities all across the nation, giving the Naples metropolitan area the highest well-being score of any of the 189 communities in the survey. In fact, the Naples/Immokalee/Marco Island area has been one of the top 10 communities on the list for the past several years.

The survey looks at residents who have the highest sense of purpose, as well as a positive outlook. In addition, the survey also takes into account people's feelings about their community, their financial and social standing and their health.

Telephone surveys were taken involving more than 350,000 participants across the country from January 2015 though the end of 2016. The survey found Naples residents have low depression, low daily stress, plus rank high in healthy eating habits.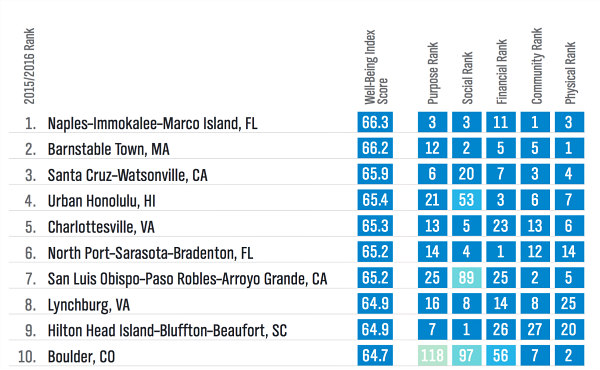 Graphic: Gallup and Healthways
Some credit the city's success to the Blue Zones Project. A couple of years ago the county began pursuing the designation, in which people, organizations, businesses and government agencies attempt to make changes to daily habits in efforts to improve longevity and overall health.

Dozens of local businesses already have Blue Zones certification, meaning they're taking the steps to elicit healthy change. In addition, thousands of people have signed off on the pledge to be healthier, and hundreds of groups are also attempting to become certified.

The Sarasota metro was the only other Florida community to crack the list of the top ten in the latest survey. Other top cities are located in Massachusetts, California, Hawaii and Virginia.