Naples to Miami Bike Path Proposed
Posted by Mark Washburn on Monday, March 30, 2015 at 5:36 PM
By Mark Washburn / March 30, 2015
Comment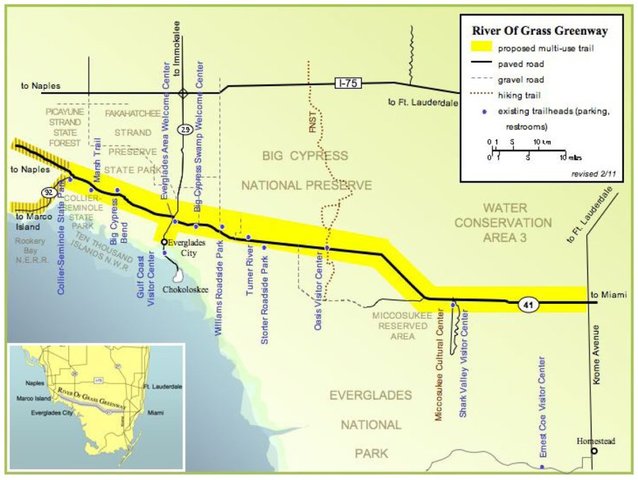 A future pathway stretching across the Everglades from Naples to Miami has been proposed, and will be known as the River of Grass Greenway.  The Everglades are sometimes referred to as the "river of grass, " hence the name.  The 76-mile pathway would run parallel to the Tamiami Trail (US 41), and would be a hard-surfaced 12 to 14 foot wide recreation corridor separated from the highway.  The pathway will be open to non-motorized recreational activities, such as bicycling, walking, running, bird watching, fishing, and photography.  

The project has been proposed for the total enjoyment of the greater Everglades natural area.  The Everglades spans 1.5 million acres and provides an important habitat for endangered species, like the manatee, crocodile and Florida Panther.  The plan is to extend the path from Krome Avenue, on the eastern edge of Everglades National Park near Miami, to Naples/Marco Island, on the western edge.  In the middle, there is expected to be a 3-mile offshoot path to Everglades City.  The path is designed for visitors to experience this unique wilderness.

While the initial proposal was an idea to give cyclists a safer and closer look at the Everglades, there are environmentalists opposed to the trail who think of the damage it may create and hurt the environment.  The bike trail would run through 6 national and state parks, and protected wetlands, and across two Indian reservations.  A 5-day protest march along Tamiami Trail from Naples to Miami will begin March 29 by a Naples-area environmental and human rights group, Stone Crab Alliance.  At the same time, an estimated 60 bicyclists will make their annual ride from Fort Myers to Key West, staying in Everglades City on March 29.  A senior park planner with Miami-Dade County Parks and Recreation said they are just in the planning stages of what this trail will be.  Nothing has yet been funded, only a feasibility study and a master plan.  The National Park Service received a $1.5 million grant for the planning work.