Naples Recognized as Foodie Town
Posted by Mark Washburn on Wednesday, May 18, 2016 at 11:02 PM
By Mark Washburn / May 18, 2016
Comment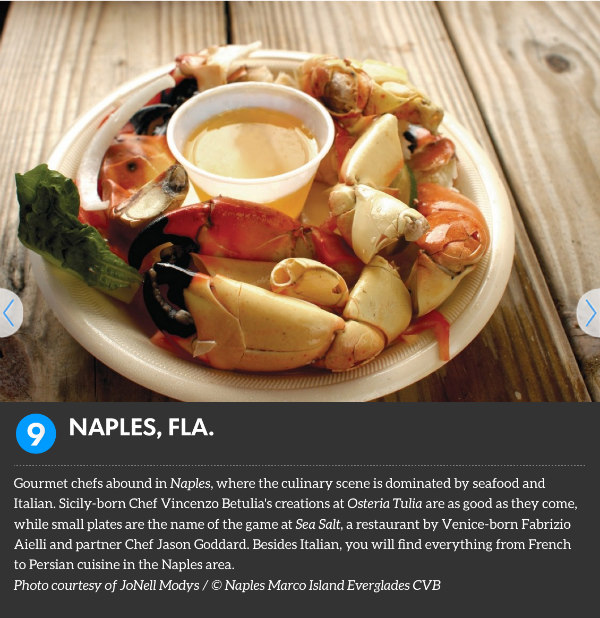 Naples is one of the Best Small Towns as a Food Scene in the United States.  Naples ranks a high #9 on the list of top winners in this category by USA Today.  The small towns on the list harbor a population of fewer than 25,000 and readers voted among USA Today's 10Best in the travel section.  Naples has risen to the top for its big foodie scene with many chef-driven restaurants, locally sourced flavors, fresh ingredients and a wide variety of cuisines in this waterfront town.  
A panel of experts picked the initial 20 nominees, and the top 10 winners were determined by popular vote.  Experts were chosen based on their extensive knowledge of American travel.  The culinary scene in Naples is dominated by delicious seafood cuisine from the Gulf of Mexico, and Italian food.  Top restaurants mentioned on the Naples list are Osteria Tulia, Fernandez the Bull Cuban Café, and Sea Salt, a small plates restaurant; other notable cuisines in Naples feature French and Persian plates.  In this category, editors choose the 20 best places to enjoy a foodie scene in a small town then readers voted for their Top 10 from those nominated selections.  The top spot went to Frankenmuth, Michigan followed by Driftwood, Texas; Portsmouth, NH; Yountville, CA; St. Helena, CA; Traverse City, MI; Tarpon Springs, FL; Hendersonville, NC; Naples, FL; and Fredericksburg, TX.  USA Today launches new categories every couple of weeks and readers vote.  
Naples has ranked #1 as the Best Destination for Luxury Travelers, and it has come in at #2 as one of the best Alfresco Dining Neighborhoods in the United States.  The readers' polls reflect an evolution of dining in this Gulf waterfront.  Now there is a lot of locally owned restaurants in Naples, with wide appeal to travelers.  In visitor polls this year, dining has surpassed the beach as the No. 1 favorite activity in Naples.  This isn't the first time that Naples has been recognized for its wide-ranging cuisine: Naples has been named among the Top 20 American cities for food as part of Conde Nast Travelers Readers Choice Award.