Naples Real Estate Prices Increase 15%
Posted by Mark Washburn on Tuesday, April 3, 2012 at 8:27 PM
By Mark Washburn / April 3, 2012
Comment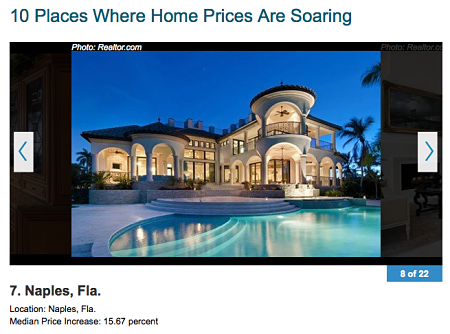 The median price of real estate in Naples, Florida rose 15.67% for the 12-month period ending February 2012. This significant increase was reported by AOL Real Estate from data culled from Realtor dot Com listing data. This increase of over 15% ranked Naples 7th nationally for property increases.
The State of Florida fared very well in this study with seven of the ten largest US gainers hailing from the Sunshine State. After five years of stagnant and declining prices, Florida is emerging as a bright spot in the national landscape.
Naples offers upscale communities, near perfect weather and a vibrant cultural environment for both second home owners and permanent residents. If you are interested in learning more about the market, here is a resource to view active Naples real estate listings.