Naples Rated One of The Happiest Cities
Posted by Mark Washburn on Friday, April 18, 2014 at 1:24 PM
By Mark Washburn / April 18, 2014
Comment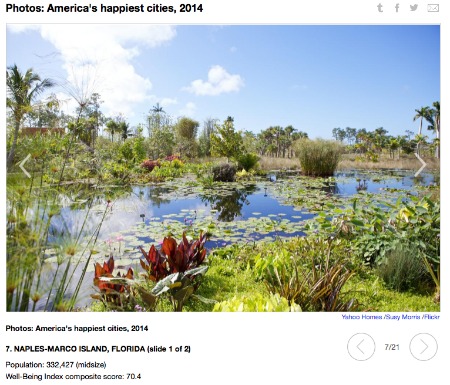 Ever wonder why people in Naples walk around with big smiles on their faces?  Naples ranks in the Top 10 of U.S. cities with the happiest people.  Residents here have the best physical and emotional well being, according to a Gallup-Healthways report called the "State of American Well Being."  The study looked at a host of factors for people looking for a place to live that will make them happy and healthy.

Naples' emotional health rates so high that only Honolulu outranks it.  Naples comes in at #4 among the country's metro areas for work environment and physical health scores.  The 5 elements of well-being in this study measured Purpose (liking what you do each day), Social, Financial, Community (liking where you live and feeling safe) and Physical (having good health to get things done daily).  Collier County is now the 2nd healthiest county in Florida, according to health rankings by the Robert Wood Johnson Foundation and University of Wisconsin.  In 2012, Coastal Living Magazine ranked Naples as the second happiest seaside town.

We all ready knew that Naples is one of the happiest towns in the U.S., given its temperate climate on the Gulf of Mexico, abundant fishing, a view that surpasses any seaside town, and fine shopping, dining and cultural activities.  This lively town measures up to its global reputation as a much sought-after place to live.  Naples offers residents a rich culture; gorgeous white pristine beaches; a strong arts community; world-class shopping, fine dining and one of the most walkable cities in the U.S.  Naples is special also in that its beaches are close to many of our residential neighborhoods, unlike many beach communities that have a busy road separating the beach from its homes.