Naples Ranks as Second Happiest Seaside Town
Posted by Mark Washburn on Tuesday, May 15, 2012 at 8:35:22 AM
By Mark Washburn / May 15, 2012
Comment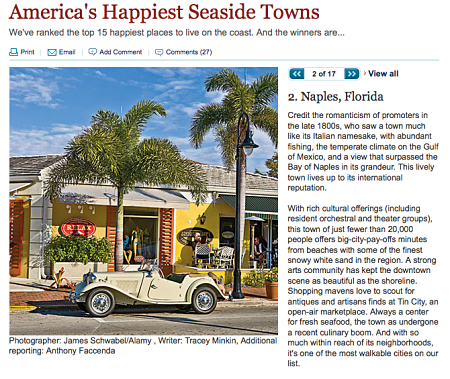 Naples was ranked as the second happiest seaside town by Coastal Living Magazine.  The study utilized the Gallup-Healthways Well Being Index coupled with weather, beach quality, commute times, walkability, school and crime ratings, education, financial security of residents and geographic diversity.

Factors cited by Coastal Living in the Naples top ranking include the temperate climate, cultural offerings, beautiful beaches, a strong arts community, shopping dining and walkability.  These are all true highlights of the Naples area and make it strong draw for both families and retirees.

There is a special quality in Naples to the proximity of the beaches to many of the our neighborhoods.  Unlike many other beach communities, Naples doesn't have a busy road separating the beach from residential communities.   While we have many high-rise developments, they are in most cases set back from the beach and don't overwhelm the seaside ambiance.

If you are considering an investment in the our happy community, here is a resource to learn more about the various Naples neighborhoods and developments.