Naples Pier: Southwest Florida's Iconic Landmark
Posted by Mark Washburn on Friday, January 24, 2014 at 8:21 AM
By Mark Washburn / January 24, 2014
Comment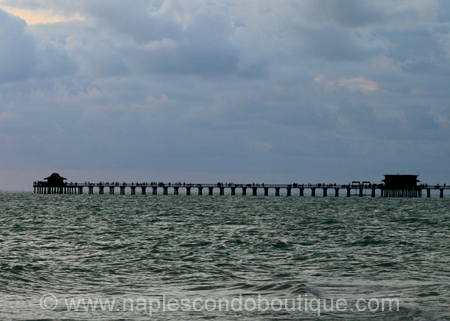 The historic Naples Municipal Pier is one of the most popular attractions in Naples. Originally built in 1888 as a freight and passenger dock, today the Naples Pier serves as an iconic landmark standing tall after 100 years as a beacon for fishermen, people-watching, gorgeous Florida sunsets and long walks to look into the Gulf of Mexico waters.

As a favorite spot in Olde Naples for fishing and sightseeing, the Naples Pier is a top location for fishing, and you do not need a license. There are benches along the Pier as it extends into the Gulf where you can sit and people-watch, enjoy the beauty of the area and take in the breathtaking scenery. A snack bar is located on the Pier where you can grab a coffee, smoothie or snack and enjoy a Southwest sunset arrayed in a bath of the beautiful colors of nature. Access to the Pier is free, and on-street parking is available as well as a parking lot one block away.

The popular Naples Pier is located on the Gulf of Mexico at the west end of 12th Avenue South. In addition to the concession stand with a covered eating area, the Pier features restrooms, a kiosk with beach supplies, and volleyball nets on the beach. The Pier has been rebuilt after hurricanes in 1910, 1926 and 1960. It stands as a testament to the pride of Naples as a community landmark.

Olde Naples is considered one of the most desirable places to live in Florida. Located between 7th Avenue North and 13th Avenue South, west of U.S. 41 and the Gulf of Mexico, Olde Naples has original beachfront homes and a variety of housing properties as well as fine restaurants and upscale shopping.
Listings Near the Naples Pier:
Old Naples Condos And Homes For Sale