Naples Opens Part of Baker Park
Posted by Mark Washburn on Tuesday, September 10, 2019 at 6:33 AM
By Mark Washburn / September 10, 2019
Comment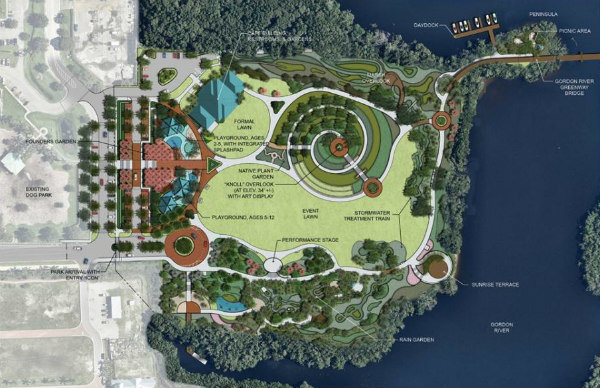 A decades-long dream comes closer to reality, as the City of Naples opens up a portion of Baker Park. Crews recently opened phase one of the park, including the park's Sunrise Terrace on the edge of the Gordon River. It's now being used for everything from yoga classes to simply catching a spectacular sunset.
Crews also opened up access to The Peninsula, outdoor fitness equipment, a kayak launch, and some picnic shelters in the park. Visitors will be able to experience more of the park in the near future when additional park features open to the public this October.
The highly anticipated park was first thought up years ago, but it wasn't officially thought of as a work in progress until city leaders approved purchasing more land for construction of the park a few years back. Crews began with work on a pedestrian bridge.
That bridge spans the river, connecting up the park to the Gordon River Greenway. When work on the bridge finished, construction crews moved on to phase one of the park.
Originally named Gordon River Park, its new name is reflective of the park's largest benefactors. Private donations are still being accepted, though, in return for some additional naming opportunities throughout the site.
Baker Park is well over its original expected price tag. Once forecast to cost about $14 million, the number now looks closer to $23 million. That makes it the city's most expensive public project yet, but city leaders say it's certainly important.
Eventually, the 15-acre park will include a playground, a band stage, a main building and a grassy knoll. It's expected the park will be used to host a number of special events throughout the year, and that a large number of people will come out to enjoy the park's trails on any given day.