Naples One of America's Happiest Cities
Posted by Mark Washburn on Sunday, August 17, 2014 at 7:43 AM
By Mark Washburn / August 17, 2014
Comment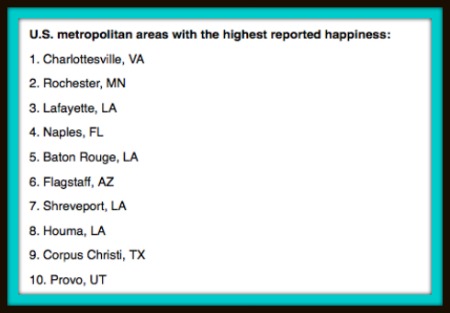 We always knew residents of Naples walk around town with big smiles on their faces, but a new study led by Harvard researchers now reveals that Naples comes in at #4 as one of the Top 10 happiest cities in America.  Citizens rated their lifestyles, and researchers concluded that happiness levels are frequently correlated with satisfaction in their lifestyles.  The analysis by the U.S. National Bureau of Economic Research comes after surveying respondents about their life satisfaction.

Charlottesville, Virginia, home to the University of Virginia college town, is the happiest city in America, followed by Rochester, MN; Lafayette, LA; and Naples, FL.  Bottom of the list: Scranton, PA; Erie, PA; and Detroit, MI.  Researchers found people still live in unhappy places because they may receive higher real wages, better jobs and lower housing prices to compensate for their "dreary" surroundings.

Naples residents maintain a healthy work-life balance, and the ability to take advantage of the outdoors.  The city's high median household income, 10-miles of Gulf beaches and great shopping all make for a better quality of life here in Naples.