Naples Named US Boomtown
Posted by Mark Washburn on Monday, May 20, 2019 at 12:20 PM
By Mark Washburn / May 20, 2019
Comment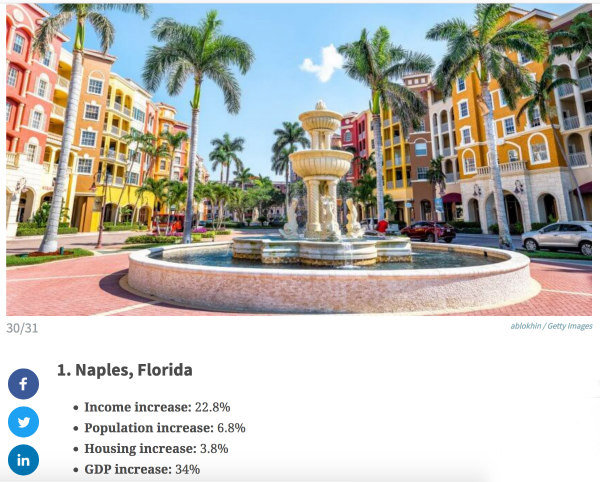 The City of Naples is certainly booming these days, so much so that the city has just been named a boomtown by GOBankingRates. The personal finance website looked at nearly 350 U.S. cities with populations of 500,000 or less, then highlighted the cities experiencing rising incomes, population growth and economic prosperity.
As part of its research, GOBankingRates looked at five years of data on housing, per capita income, GDP and population. When all that data was taken into account, Naples took the number one spot for personal income growth between 2012 and 2017, seeing a nearly 23-percent increase.
During that same time period Naples saw a GDP increase of 34-percent, a population growth of nearly seven-percent and a housing increase of nearly four-percent. While housing and population increases were both slightly below average in Naples, it wasn't enough to knock the city out of contention.
The website points to boomtowns being more attractive to buyers for offering things like the opportunity for job growth, less tax burden and a lower cost of living. Boomtowns don't, however, always grow in same way in different areas of the country. Sebastian, Florida came in at number three on the list, while Miami took the 12th spot, with both locations credited for their growing populations.
As for Naples, the ranking is just another indication of what makes the area such a desirable destination for many people. Known world-wide for its beaches, Naples also holds the advantage of nearly year-round sunshine and blue skies, plus endless opportunities for boating, fishing, tennis, golf and other outdoor recreation.
The Naples area is also filled with some incredible options for shopping and dining, an array of stylish art galleries, cultural attractions and a number of other sites and opportunities that truly make this part of Southwest Florida so unique.