Naples Named Top Tourist Destination
Posted by Mark Washburn on Tuesday, May 29, 2018 at 6:25 PM
By Mark Washburn / May 29, 2018
Comment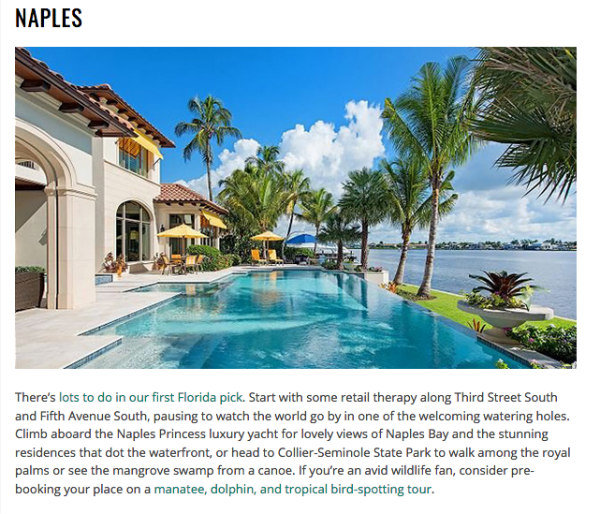 Graphic: TripAdvisor
The secret is definitely out! Not only is Naples a great place to call home, but also it's a top location for visitors. Naples just landed a top spot when it comes to the "20 Best Places to Vacation in Florida", as designated by TripAdvisor.
The website looked at the entire state focused on rental home vacation properties, and came up with a list of its top 20 using rental reviews left on its website. In choosing Naples, the website pointed out the vibrancy of 5th Avenue South and Third Street South, as well as the incredible views of some of the city's most impressive waterfront homes.
In addition, TripAdvisor also pointed to the enjoyment of walking or canoeing through Collier-Seminole State Park and the joy of taking a bird, dolphin or manatee tour. In total, though, the website aimed at determining the best Florida rental locations that also offer up a number of added local attractions, tours and activities for those staying in the area.
The City of Naples is highly regarded for its many diverse options in upscale dining and shopping, as well as its fantastic local beaches and for providing a wealth of available outdoor recreational options. From kayaking and paddle boarding to fishing, shelling, hiking and bird watching, there's plenty to see and experience when choosing a vacation to Naples.
It's by far not the only list that Naples has topped in recent memory. The city also recently made the list of America's richest ZIP Codes, plus it's topped the list three years running for overall well being of its residents. Other Southwest Florida locations to make the latest list include Marco Island, Sanibel Island, Cape Coral and Fort Myers.
The website maintains its vacation rental reviews are a good way to learn more about a destination before you go, with plenty of exciting options, no doubt, awaiting visitors to sunny Naples, Florida.