Naples Named Top Retirement Hotspot
Posted by Mark Washburn on Monday, July 8, 2013 at 3:25 PM
By Mark Washburn / July 8, 2013
Comment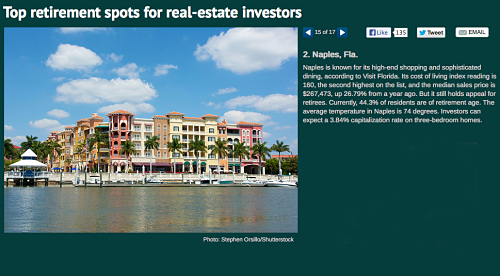 In a recent report by RealtyTrac, Naples was named the number two retirement hotspot in the nation and a great place for real estate investors to target for long-term value creation.  Factors that were considered by RealtyTrac in establishing this ranking included the percentage of residents above retirement age, home price appreciation and rental capitalization rates.

Despite having the second highest cost of living index of all the communities ranked in the top 15 in the US, Naples scored high the 44.3% of its residents that are of retirement age and average annual temperatures of 74 degrees.  Additionally, a cap rate of 3.84% on 3 BR single-family homes is attractive to investors.

Home prices are on the rise in Naples with the median now at $267,473, up 26.79% from a year ago.  If you have been interested in the Naples market, this may be an opportune time as many expect prices to continue to climb.  Naples has much to offer including world-class golf communities, gulf front high-rises and master-planned communities.