Naples Named Top Florida Retirement City
Posted by Mark Washburn on Monday, April 22, 2019 at 3:33 PM
By Mark Washburn / April 22, 2019
Comment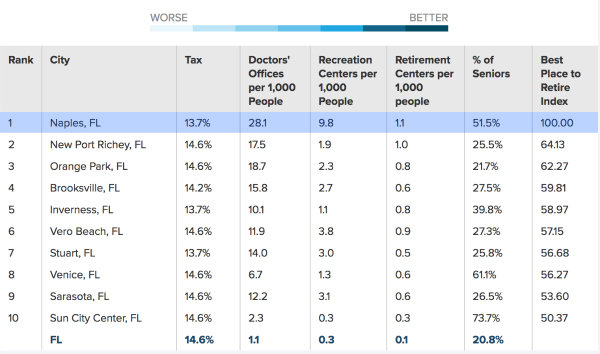 Graphic: Smart Asset
If you're getting ready to retire, Naples is the place to be! SmartAsset recently ranked Naples at the top of the list when it comes to the best places in the State of Florida to retire, and in the nation for that matter.
Naples reportedly received a 100 on its Best Places to Retire Index, far ahead of even its closest competition. In coming up with its ranking the personal finance website looked at things like access to health facilities, a low tax burden, entertainment opportunities and a high percentage of seniors that already make up a city's population.
When it comes to Naples, more than half of the city's residents are in the category of senior citizens, plus the city boasts a low tax burden, allowing retirees to stretch their savings father than in other parts of the country. It's the third time that Naples has topped the list from SmartAsset, but it's by far not the only time it's gained a high ranking.
Livability.com recently put Naples in the number one spot for 2018 when it came to the Best Places to Retire. It's also been named the best beach town by WalletHub, it's a three-time winner of the nation's happiest and healthiest community, and it's ranked tops for adventure and near the top of the list when it comes to the South's top food towns.
Renowned for its abundant options in outdoor recreation and watersports too, SmartAsset lists Barefoot Beach as a great place for fishing. It also makes note of the dozens of community golf courses and, in particular, a senior fitness center located in Naples.
Two other Florida cities made it on the national list of the top ten retirement cities. North Port Richey came in at number seven on the list and Orange Park came in at number ten.