Naples Named Top City for Retirement
Posted by Mark Washburn on Monday, July 25, 2016 at 1:50 PM
By Mark Washburn / July 25, 2016
Comment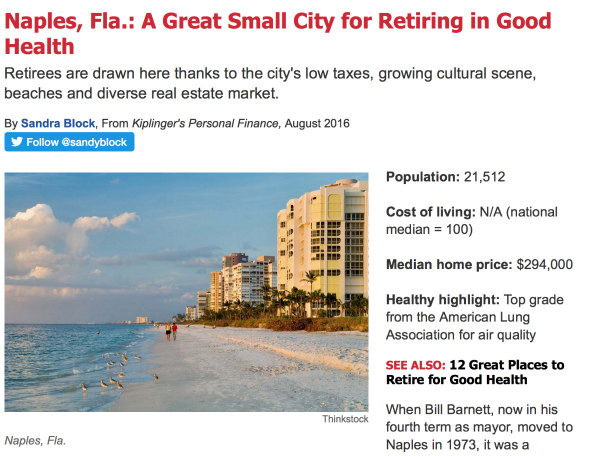 It seems that Naples is not only a beautiful place to call home but also a place that may just make you happier and healthier. At least that's according to respected business and financial publication Kiplinger, which recently gave Naples top marks.
The editors of Kiplinger named Naples as the top city when it comes to "12 Great Places to Retire for Your Good Health". Once noted as an old fishing village with few choices in dining, the city now boasts around 21,000 residents, many of them retirees flocking to Naples for the beautiful homes and miles of stunning beaches.
Not to be overshadowed, the city also recently received the highest grade for air quality from the American Lung Association. That's significant because Naples is an active city where residents often participate in outdoor recreation like kayaking, fishing and golf. Old Naples, too, is just a short bike ride or stroll away from many restaurants and grocery stores.
An active lifestyle is one mark of a "Blue Zone", something launched in 2015 by a Naples-based healthcare system to help encourage healthy behavior communitywide. A blue zone is a term commonly attached to a location where residents live well into their 90s.
Longevity is also commonly attached to community involvement and Naples has plenty of that, supporting hundreds of nonprofits. As well, the city maintains its status as a top place for retirement due to health and well-being. The Gallup-Healthways Well-Being Index recently gave the Naples area the top spot for overall well-being, scoring high in community well-being and social well-being. That study found a majority of residents choose to eat healthy and are less stressed than most of the rest of the country.
Other cities that followed Naples on the Kiplinger list included Lynchburg, VA, Billings, MT, Greensboro, NC and Omaha, NE. The only other Florida city to crack the "top 12" was St. Petersburg.