Naples Named Top City for Early Retirement
Posted by Mark Washburn on Friday, October 25, 2019 at 12:14 PM
By Mark Washburn / October 25, 2019
Comment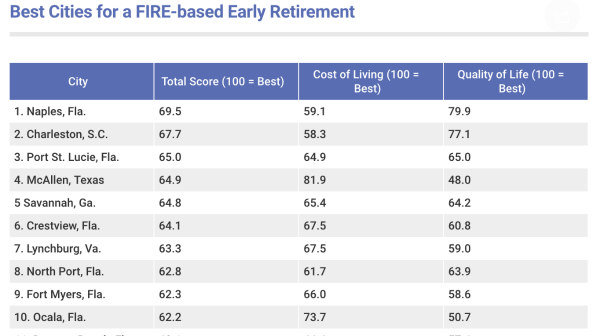 Graphic: Magnify Money
If you're searching for a place to spend your Golden Years, Naples is the place to be. Time after time the city's been named a top city for retirees, with the most recent designation calling it the number one city for early retirement. The latest ranking comes from the personal finance website Magnify Money. It puts Naples at the top of the list for what it calls a "FIRE" retirement.
According to the website, FIRE stands for a city where you can be "financially independent" and "retire early". Those who practice FIRE hope to achieve as early of a retirement as possible, but only at a time when they've been able to attain enough financial independence that they no longer need conventional employment to sustain their lifestyle.
This often means being frugal about your spending habits and about your savings. Magnify Money looked at more than 170 cities around the nation, then scored them in terms of quality of life and cost of living.
Naples scored particular well in the category of quality of life. While the city landed at the top of the list, it wasn't the only Florida city to do well. About half of the top 20 cities in the ranking are also located in the Sunshine State.
Naples, in particular, routinely ranks high in terms of the best places for retirees. Last year Livability.com ranked Naples as number one on its list of the "2018 Best Places to Retire".
The Livability website credits this to such things as the city's great weather, fantastic beaches and upscale shopping possibilities. Naples also boasts dozens of golf courses and unique attractions like the Audubon Corkscrew Swamp Sanctuary. In addition, the website points out the city's cultural attractions, including various activities, events and exhibits tied to the Naples Art Association.