Naples Has America's Best Air Quality
Posted by Mark Washburn on Friday, March 10, 2017 at 2:59 PM
By Mark Washburn / March 10, 2017
Comment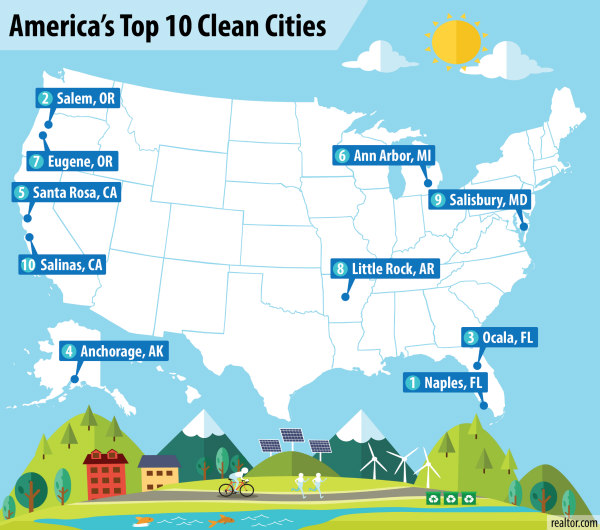 Graphic courtesy of Realtor.com
There's yet another great reason to live in Naples, and this one should definitely help you breathe a little easier. It turns out the Naples area is at the top of the list when it comes to America's least polluted cities.

According to the realtor.com website, the entire State of Florida ranks high for air quality, with Naples getting the highest marks for its clean air. The area's natural surroundings are sure to help, with the nearby Ten Thousand Islands, the Everglades and the Corkscrew Swamp Sanctuary. In fact, some point to Collier County as including more protected acreage than any other county in the entire state.

The website takes into account factors such as water quality, greenhouse gas emissions, factories releasing toxic chemicals, the number of Superfund sites and air quality, quantified by how many days the EPA designates as clear days each year. Florida is helped in that the state is not industry heavy, but rather the economy mostly relies on things like tourism and agriculture. Another Florida city, Ocala, came in at number three on the list.

In another ranking, the American Lung Association gives the Naples/Fort Myers/Cape Coral region high marks too, with a tie for the number one spot when it comes to the cleanest metros in regards to Ozone. This particular study looked at data from the EPA based on the years 2012-2014, serving up Collier County with an "A" grade.

Along with its high performance in air quality, Naples is, of course, known for its spectacular golf courses, its miles upon miles of sugary white sand beaches and its impressive selections when it comes to shopping and dining. With a rich array of options in real estate, it's no wonder that so many people are discovering the natural beauty and boundless opportunities that exist within this spectacular Southwest Florida community.