Naples Among Best Performing Metros in Nation
Posted by Mark Washburn on Monday, January 29, 2018 at 12:22 PM
By Mark Washburn / January 29, 2018
Comment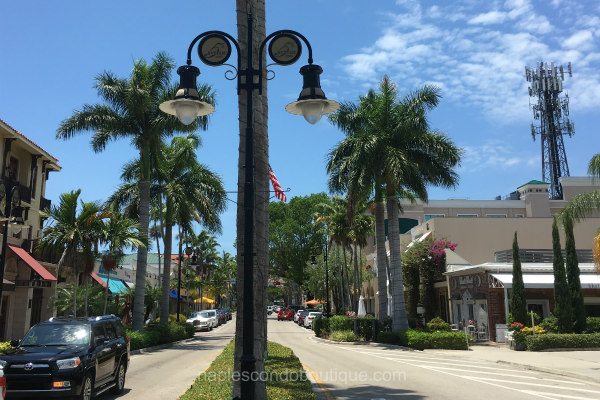 The Naples area is known for its beautiful homes and beautiful beaches, and it seems economic experts are certainly taking notice of the area, as well. The Milken Institute, a non-profit think tank, just ranked
Naples
as among one of the nation's best performing metro areas.
In fact, the Institute places Naples at number 18 when it comes to its list of the "
Best-Performing Cities
" for 2017. It's a process that's been repeated for nearly two-decades, with Naples making an appearance on the list of the top 20 metros for three years running.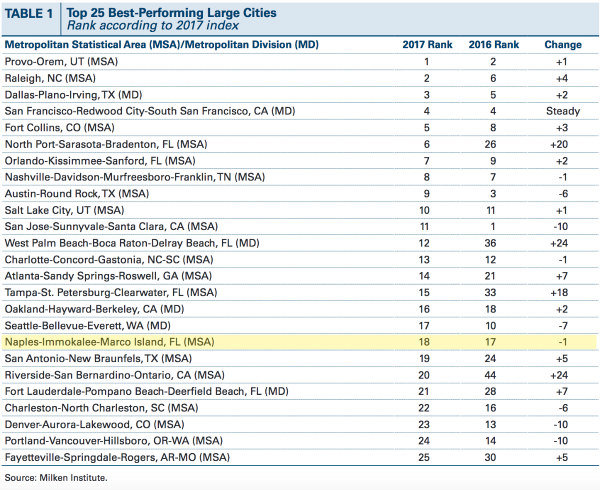 Source: Milken Institute
In all, the Milken Institute ranks 200 different metro areas, with Florida metros easily taking several spots in the top 30 for the year. Other metros to rank high on the list for 2017 include North Port-Sarasota-Bradenton at number six, followed by Orlando-Kissimmee-Sanford. The Tampa-St. Petersburg-Clearwater metro slightly surpassed Naples in taking the 15th spot, while Fort Myers-Cape Coral came in at number 30 on the latest list from the Milken Institute.
To come up with its ranking, the Institute takes a close looks at economic factors, including wage growth and job growth, then measures metro areas and evaluates the overall growth by way of nine categories. The Naples area has traditionally done quite well in the ranking over the past few years. The metro ranked number three in five-year job growth, praised for its strong retail sector and for tourism.
While that's expected to also remain a contender in the foreseeable future, tech is additionally noted as a fast-growing sector of the area. In addition, the healthcare industry is also strong, and tied to thousands of Naples area jobs.
At the top of the list for 2017 were Provo, Utah, Raleigh, North Carolina, and Dallas. Last year the Naples metro took the 17th spot on the list of the "200 Best Large Cities".