Marco Island: One of Florida's Safest Places
Posted by Mark Washburn on Friday, February 23, 2018 at 11:33 AM
By Mark Washburn / February 23, 2018
Comment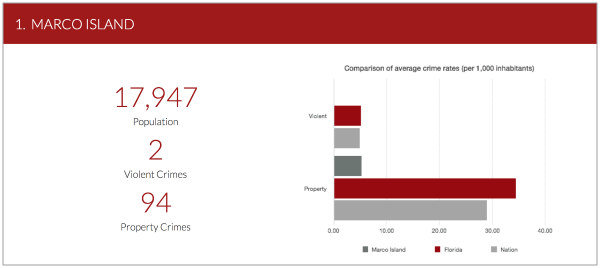 Graphic: National Council For Home Safety & Security
A great place to live and to visit, it seems that
Marco Island
also holds the distinction of being one of the State of Florida's safest places. According to a group of home security professionals from across the nation, Marco Island comes in at number one when it comes to safe communities across the Sunshine State.
Together these professionals form the National Council for Home Safety and Security, which just released a report designating the "Safest Cities in Florida for 2018". The ranking took into account safety-related issues such as the number of property crimes, reported violent crimes and the number of motor vehicle thefts per population. The most serious crimes were weighted higher than the less serious crimes.
The report found two reported violent crimes and around 94 property crimes for the area, resulting in a high safety ranking when comparing that to the overall population. Nearly 18,000 residents call Marco Island Home.
While Marco Island came in at tops on the list, Weston, Parkland and Satellite Beach also ranked high. Key Biscayne came in at number five on the list of Florida's safest cities for the year.
The trade association that came up with the ranking based its research on FBI Uniform Crime Reporting statistics, plus internal research and population data. It removed from consideration cities without at least 10,000 residents and those cities that failed to submit complete crime reports to the FBI.
The large barrier island sits in the Gulf of Mexico, and links up to the rest of the state via bridges. You'll find a number of beaches, golf courses, marinas and resort hotels in Marco Island, with popular outdoor recreation options including boating, fishing, paddle boarding and kayaking. You'll also find a variety of housing options on
Marco Island
, from single-family waterfront and beachfront homes to condos.