Major Population Growth Projected for Southwest Florida
Posted by Mark Washburn on Wednesday, October 21, 2015 at 4:57 PM
By Mark Washburn / October 21, 2015
Comment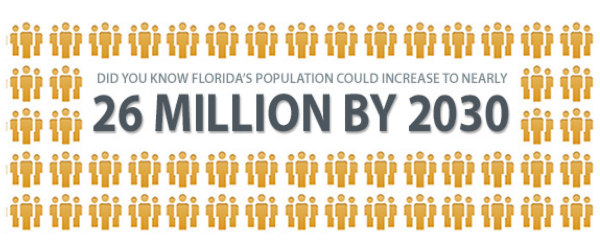 Southwest Florida will see a 20 percent rise in population over the next 15 years, especially among an aging population of people in their 70s who are moving to this region.  Communities need to be prepared, according to a report released this month by the Florida Chamber of Commerce.  The population of the Naples-Cape Coral-Fort Myers metro areas will go up at least 20 percent.  The Naples area is in the Top 10 for population growth in the United States, according to the latest figures by the U.S. Census Bureau.
The chief economist and research director for the Florida Chamber of Commerce told an audience this month that the rapid jump in population will affect all social services across the board, and Lee and Collier counties need to be prepared for it.  He acknowledged that many of these newcomers in their 70s will be self-sufficient with a lot of personal wealth.  By 2030, the population of residents in Lee and Collier counties aged 70-75 will double.  The area today has a workforce of 300,000 and an additional 120,000 people over age 60 are expected to move into town.
The major population growth for Southwest Florida mirrors similar numbers for the state of Florida in general.  The Chamber of Commerce says the important message here is to find ways for retirees to get involved since they have personal assets to invest in startups in Florida but they also share vast experience and should serve as mentors to other residents.  A welcome approach is to match the retirees with their workforce.  The expected population growth also points to the need for a hospital in southern Lee County, said the mayor of
Estero
during an exchange at the meeting.  
The U.S. Census Bureau's latest population estimates name Southwest Florida as one of the fastest growing regions in the U.S., and Lee and Collier counties are ranked in the Top 10 increases from July 2013 to July 2014.  The economy has been rebounding compared to the recession in the 1990's and early 2000's when foreclosure and unemployment rates soared.  The housing market collapse slowed the migration of retirees to Southwest Florida but now with the economy back to normal, demand for housing has increased as retirees head back down to Florida.