Iconic Chickee Hut Builder Completes Last Hut
Posted by Mark Washburn on Thursday, February 27, 2020 at 10:10 AM
By Mark Washburn / February 27, 2020
Comment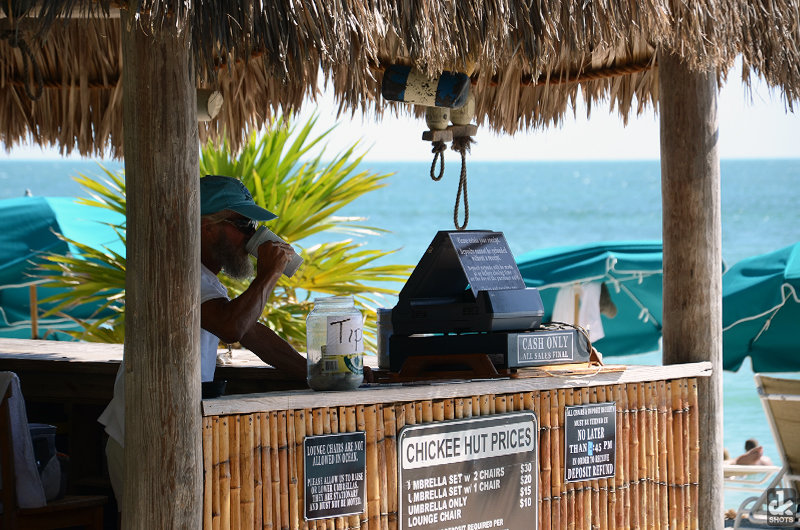 Photo: Dirk Knight
While they serve as landmarks around Southwest Florida and the Caribbean, there's now one less builder to construct the iconic chickee hut in Naples. OB Osceola, a legend of sorts in the region for constructing chickee huts, no longer commercially builds the structures.
Up until his retirement, Osceola was one of the last remaining old guard Seminole builders responsible for constructing the many chickee huts you see around the region. He and his father were two of the first to build the huts commercially, and he's well known in the area.
Osceola's final hut was actually a rebuild project. Decades ago, he helped construct the roof of the original chickee hut over the dock at the Cove Inn. Not too long ago he helped rebuild the very same one.
Chickee huts are commonly used as shelters, outdoor bars and even band stages these days. They're designed with thatched roofs but no floors. They also have open sides.
The name may sound unique, but chickee is actually just the Seminole word for house. Sometimes the huts are referred to by the Polynesian name of Tiki Hut.
In Florida, the huts were first developed by the Seminoles way back in the 1800s. Tribe members needed more temporary and disposable shelters than the log cabins they had been building.
The chickee huts provided them with the shelter and shade they needed. The palm leaves and Cypress logs were readily available.
Remarkably strong, chickee huts are often built well enough to actually withstand some hurricanes and storms. When built correctly they don't even leak.
What began as a necessity turned into a business for some in the area. Although they're more often used in yards and recreation areas these days, you'll also find chickee huts in some condo complexes and on some hotel and resort properties.