Hole In The Wall Golf Club: Pure Naples Golf
Posted by Mark Washburn on Wednesday, March 25, 2015 at 11:01 AM
By Mark Washburn / March 25, 2015
Comment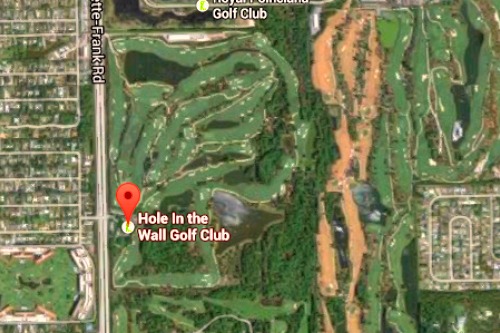 It's the best kept secret in Naples: The oldest private golf club in Naples for almost 60 years, The Hole In The Wall Golf Club has a small membership limited to golfers who like the simple game of golf without all the frills and amenities offered by other golf courses in the area. For golfers "who enjoy each other's company," it's just a golf club. There are no tee times; it's quick play; and members are allowed to walk this course any time. While there is no swimming pool, tennis or Spa, The Hole In The Wall Golf Club does have a new Clubhouse, bar and dining room. The course enjoys a rich history, and 50 acres of wetland preserves are dedicated to conservation and home to South Florida wildlife in addition to 10 acres of lakes.

Membership is by invitation only from other member sponsors and evaluations by an Admissions Committee. The new Clubhouse, completed in 2007, is Old Florida-style with a full service Pro Shop, ladies and men's locker rooms, a gathering room with fireplace, and a full bar next to the dining room. The Clubhouse feels like an elegant home. The funny name, Hole In The Wall Golf Club, is derived as the property was originally the northern section of The Hole In The Wall Ranch, and a swamp separated two separate areas of settlements in Naples. The swamp became the "wall" because it prevented direct land traffic between the two settlements. Early settlers cut a road through the swamp to remove this barrier and became "The Hole In The Wall."

Designed in 1957 by Dick Wilson, the well-known golf architect, and opened in 1958, The Hole In The Wall Golf Club was more recently renovated in 2009 by Ron Forse. It now has 109 bunkers and the new green course is a championship par 71, and plays 6510 yards. It has excellent playing conditions, especially The Celebration fairways and Champion greens. Only the natural environment surrounds the golf course and no residential development. The club's property includes 50 acres of wetland set aside for wildlife conservation, and home to cypress swamps and woods. Animals include bobcats and grey fox, and birdlife, such as snowy egrets, great egrets, wood storks, tri-colored herons, and even bald eagles have been spotted. The golf club is fully certified in the Audubon Cooperative Sanctuary Program.