Hey Mitt: Forget the Election and Move to Naples
Posted by Mark Washburn on Thursday, November 8, 2012 at 6:01:36 PM
By Mark Washburn / November 8, 2012
Comment
Governor Romney, its time to forget about the election results and move on with your life.  A surefire way to do this would be to buy a new place to hang your hat in Naples.  Your probably reading this saying whoa….Anne and I have too many houses now as it is…..just ask Newt or Santorum!!

Well Governor an argument could be made that the homes you already own are all in the wrong, unfriendly places.  Why you would want to spend another minute in that liberal bastion of Boston is beyond logic, the same goes for your summer place in Wolfboro on Lake Winnipesaukee….New Hampshire looked pretty blue the other night as well.  Although closer than the overall California vote, San Diego County also went blue…..so its also time to to reevaluate the investment in the renovations you were planning for the La Jolla beachfront home.

Governor, wouldn't it be wonderful to rub elbows everyday with like minded individuals…..if that is the case then Naples is the place for you.  Naples carried the torch for you on Tuesday with a whopping 64.66% of the voters in Collier County supporting you.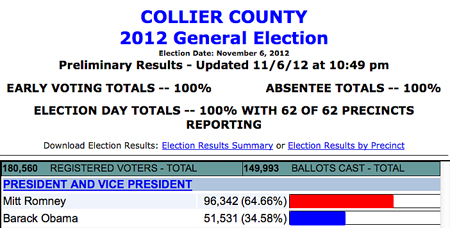 You and Anne would feel right at home in Naples…..our airport is welcomes private Gulfstreams and is much quieter than San Diego International or Logan Airports.  Our friends at Devoe Cadillac are standing by to set you and Anne up in his and her Escalades.  Also, you can continue your ministering and spiritual fullfillment at the LDS Meeting House in Golden Gate.

If you have read this far Governor, then the obvious question that comes to mind is where should you live in Naples.  Since you are a boater, it makes sense to find you a place on the water.  Naples is fortunate to have several fine boating communities and our finest is Port Royal.  You will probably want to stay somewhat involved in our nation's politics and a waterfront home in Port Royal is the perfect spot in Southwest Florida to throw a fund raiser for your favorite up-and-coming Republicans like Paul Ryan and Marco Rubio.

As family is important, a house large enough to accommodate a holiday visit from all five sons was a key requirement….so we ruled out anything with less than six bedrooms.  Also, a private dock large enough to support a modest yacht was another parameter.  Our crack team of Naples real estate experts gathered to ponder the most appropriate Port Royal home for the Romney Family.  We ruled out homes in Port Royal on Rum Row and Gin Lane for obvious reasons handpicked one located at 1145 Galleon Drive for you.  This home has six bedrooms, nine baths and 8,913 Sq Ft. of living space highlighted by aside water views across Naples Bay.  A dream chef kitchen, expansive infinity pool and a boat dock round out the highlights of this home listed for $8.995M.

Governor Romney, please give us a call if you want to feel some love down here in Naples.