Former Trio Development Project Now Renamed Gateway
Posted by Mark Washburn on Monday, November 18, 2019 at 1:37 PM
By Mark Washburn / November 18, 2019
Comment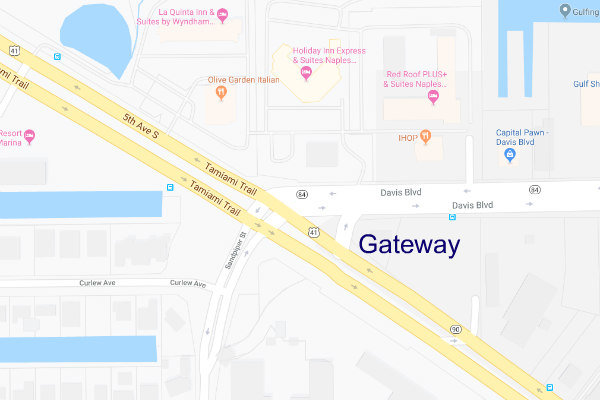 The former Trio development project of East Naples now has a new name and potentially a new future. The triangular-shaped property takes up two-acres, and was once slated for luxury hotel rooms, upscale residences, top amenities, restaurants and retailers, all set within a mixed-use building.
Those plans, however, met with some opposition from nearby neighbors and other developers, along with some increased scrutiny from Collier County officials. Along with some design revisions, the property has since changed ownership and changed names since it was first announced.
The former Trio development at the corner of Davis Boulevard and US 41 East is now named Gateway. This past summer Collier County Commissioners gave property owners the go ahead to move forward with a new and improved mixed-use design planned for the property.
A sticking point in the past has been the square footage allocated for hotel rooms at the site, and concerns raised by another nearby developer. A separate hotel and condo project sits close to the site of the Gateway project and is already in progress.
Specifically, the Gateway project tipped off concerns over floor area ratio requirements in county code. Despite those concerns, commissioners recently sided with property owners, meaning the mixed-use project of hotel and residential space can push ahead.
The most recent plan now calls for 150 hotel rooms and two dozen upscale residences. It also makes room for dining and shopping in the mixed-use property of Gateway.
The Gateway location is no doubt a valuable one for developers. It's located within walking distance of popular Naples attractions including Fifth Avenue and Tin City. It also promises some fantastic views of downtown, the bay and the Gulf. In addition, the newly renamed Gateway project exists just minutes away from area beaches, art galleries and more in the Naples area.