Find Romance in Naples
Posted by Mark Washburn on Thursday, February 12, 2015 at 11:14 AM
By Mark Washburn / February 12, 2015
Comment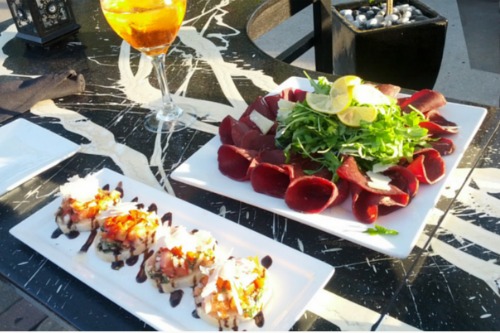 In Naples, there are so many choices for a romantic dinner date glimpsing Gulf views and sunsets. So we did a round-up of our favorite places for a Valentine's Day date, and here are 3 of our top choices: Gumbo Limbo Beach Bar & Restaurant at the Ritz Carlton Hotel, Osetra and the Naples Princess sunset cruise. Grab a bouquet of flowers before heading out for dinner this year, and you'll be all set for a fabulous night on the town!
Gumbo Limbo Beach Bar
The Gumbo Limbo Beach Bar & Restaurant at the Ritz Carlton Hotel is a casual outdoor eatery on Vanderbilt Beach, which happens to be an ideal spot to view a beautiful sunset facing the Gulf waters. With a refreshing cocktail in hand, the colors of the spectacular sunset in front of you, the taste of good seafood, a warm gentle sea breeze in your hair, and the sound of the waves ups the ante for a memorable evening in Naples. Open every day for lunch and dinner, the whimsical name of Gumbo Limbo reflects its casual seafood appetizers, entrée menus with an eclectic mix of fresh ingredients (lobster quesadilla, coconut shrimp). Enjoy a glass of wine with your Valentine's date as you watch the sun set over the blue waters of the Gulf of Mexico.
Osetra
Another option for couples celebrating Valentine's Day is a night out at a fabulous champagne and caviar bar, Osetra, on exclusive Fifth Avenue South in Naples. Osetra serves delicious sushi, caviar and champagne 7 days a week. For a late night romantic dinner, the Naples Maki or the Land and Sea Roll are exceptional choices at Osetra. The restaurant's signature dish is the Lobster Two Way, a lobster tempura and King Crab rolls with lobster fruit salad and caviar served in a shapely martini glass. Specialty wines and champagne blend with live musical entertainment in this swanky establishment open until 2 am.
Naples Princess Cruise
If Valentine's Day sunset dinners cruise is on your to-do list, you can cruise aboard the Naples Princess, an elegant yacht that provides sightseeing, lunch or dinner, and live entertainment. As you relax, you will enjoy the stunning views of Naples Bay and Port Royal with air-conditioned seating inside the boat or fresh-air seating on the deck. The Naples Princess sails from her dock at the Port-O-Call Marina conveniently located near downtown Naples.