Explore Waterside Shops in Naples
Posted by Mark Washburn on Saturday, July 21, 2018 at 9:18 AM
By Mark Washburn / July 21, 2018
Comment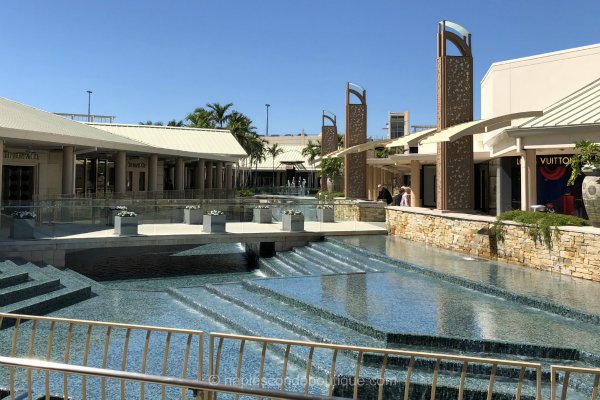 The high-end Waterside Shops in Naples is a premier shopping and dining destination but also a beautiful setting showcasing cascading waterfalls, flowering plants, royal palm trees, and stunning architecture rolled into one location. World-class service makes it a shopping experience with valet parking and exceptional concierge services providing shopping assistance.
More than 60+ stores and restaurants, including luxury retail boutiques such as Gucci, Louis Vuitton, Tiffany & Co., Salvatore Ferragamo, and Van Cleef & Arpels. Besides designer shops and plenty of parking, it's also a great-people watching spot with pretty surroundings. When in Naples, it's a nice way to spend a beautiful day in Naples amid water and fountains everywhere, and promenades for strolling.
Waterside Shops is the Gulf Coast's premier shopping and dining destination. Nordstrom, Saks Fifth Avenue, and Barnes & Noble anchor Waterside Shops. Other shops include: Tory Burch, Apple, Brooks Brothers, Anthropologie, Lilly Pulitzer, Lululemon, Pottery Barn and Williams-Sonoma. Restaurant options include True Food Kitchen, BrickTop's Restaurant, Brio Tuscan Grill, and California Pizza Kitchen.
Waterside Shops is a pet-friendly center where you can walk your dog over bridges and through the promenades. Stores display water bowls at their front doors and some offer biscuits. It's a bike-friendly center, too, with parking stands throughout the shopping center for your bike. Benches provide resting spots. Complimentary strollers and wheelchairs are provided. Waterside Shops hosts special events all year for charitable causes and social gatherings.

Waterside Shops is located 4 miles west of I-75 at exit 107 at the intersection of Pine Ridge Road and Tamiami Trail North (US 41) in Naples. Waterside Shops is a 90-minute drive from Miami and Fort Lauderdale. Naples has some of the most upscale waterfront estates and condos in the world, such as Connors Vanderbilt Beach, Mystique, Naples Reserve, and Gulfside at Park Shore.
Fun facts: Naples has the second highest number of millionaires per capita of all American cities, according to Kiplinger Reports. Naples has more than 80 championship golf courses, giving Naples more golf holes per capita than anywhere in the U.S.