Explore The Charm of Old Naples
Posted by Mark Washburn on Tuesday, January 13, 2015 at 10:02 AM
By Mark Washburn / January 13, 2015
Comment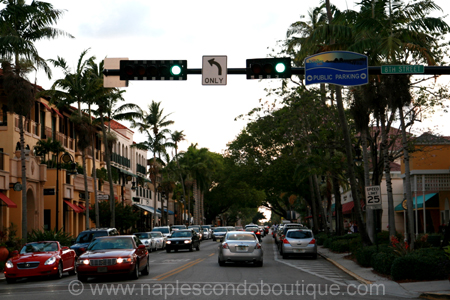 The heart of the city of Naples is Old Naples, a charming area of historic homes and luxury shops, art galleries, fine restaurants, sidewalk cafes and hotels that line the landscaped picturesque promenades in this idyllic setting near the beach. For shopping, dining and playing, Old Naples is a mix of small-town friendliness and historical landmarks with sophisticated boutiques, upscale shops and colorful buildings in downtown Naples.
The main street of shopping lies along Fifth Avenue South in Naples. The street is home to a range of businesses from fashion boutiques, gourmet restaurants, outdoor cafes, coffee shops, ice cream shops, and antique stores to art galleries, jewelry stores, home furnishings and more. It offers practical daily conveniences too, such as beauty salons, banks, bookstores, a pharmacy, food market and professional offices. It's a lovely place to take a stroll along the manicured landscaped promenades as well as take pleasure in sidewalk dining at one of the many cafes.
Third Street South in historic Old Naples is the other portal into Old Naples welcoming visitors and residents to elegant shops with more than 100 clothing stores, cute gift shops, restaurants and art galleries. Between Naples Bay and the Gulf of Mexico, The Third Street South shopping area is a luxurious shopping mecca. Old Naples, with its picture postcard views, Mediterranean-style arched entries and breezeways, with fountains and courtyards, beckons visitors and residents to spend the day or just afternoon shopping at high-end clothing stores, trendy boutiques, sophisticated world-class art galleries and fine gourmet dining. The district's ambience attracts many art galleries. Gallery Row is 3 square blocks of traditional and contemporary fine art houses and galleries. End your visit at Olde Naples Pub, an original neighborhood pub that has become a favorite hangout for locals. It is located two blocks from Naples historic fishing pier in the Naples shopping district.
Old Naples Real Estate Listings:
Olde Naples real estate listings - updated daily!