Explore Nature at Rookery Bay Reserve
Posted by Mark Washburn on Wednesday, November 25, 2015 at 12:42 PM
By Mark Washburn / November 25, 2015
Comment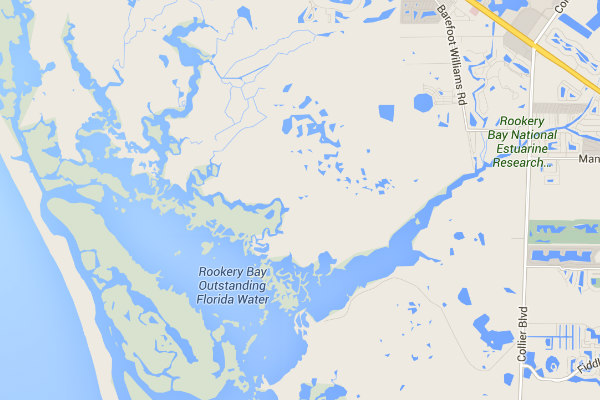 Visitors can take a boat or kayak on a guided nature tour to one of the last undisturbed mangrove estuaries in North America, comprising the Everglades ecosystem.  The pristine mangrove forest and protected waters of Rookery Bay where streams and rivers meet the sea, Rookery Bay protects 110,000 acres of coastal lands and waters where a surprising world is located at the northern end of the Ten Thousand Islands on the Gulf Coast of Florida.  The Rookery Bay National Estuarine Research Reserve, a regional hub for education and research on estuaries, delivers a unique variety of wildlife, including endangered animals and 150 species of birds.

There are Naturalist-guided tours.  Reserve staff conducts intimate boat tours with a maximum of 6 passengers to explore the ecosystem of Rookery Bay.  Two-hour guided kayak tours are also available to explore the backwater bays and mangrove forests.  An experienced naturalist and guide provide tours to view wildlife, such as fish, osprey, wading birds, and dolphins.   Rookery Bay Reserve serves as a habitat of unspoiled mangrove waterways, surrounding upland hammocks, scrub, and freshwater wetland habitats.  The estuary is an important natural home for a myriad of wildlife, and is a wonderful spot for outdoor recreational activities.  This ideal setting is the seat for a variety of recreational activities, such as boating, hiking, fishing, bird watching, sailing, or exploring the beauty of the area.  

The Reserve is a wonderful ecological region of contiguous freshwater and marine wetlands with an abundant supply of coastal and marine wildlife.  Managed by the Florida Department of Environmental Protection's Coastal Office and the National Oceanic and Atmospheric Administration (NOAA), the Reserve is open Monday thru Saturday from 9 AM to 4 PM with free parking; it is located along Collier Boulevard and south of US 41 (Tamiami Trail).  The Environmental Learning Center has 4 research labs, a 2-story visitor center, classrooms, and auditorium offering hands-on experiences, an aquarium, interactive exhibits, a nature store, and picnic area.  It is designated as a Coastal Ecosystem Learning Center.