Explore Nature Along the Gordon River Greenway
Posted by Mark Washburn on Friday, February 22, 2019 at 6:13 PM
By Mark Washburn / February 22, 2019
Comment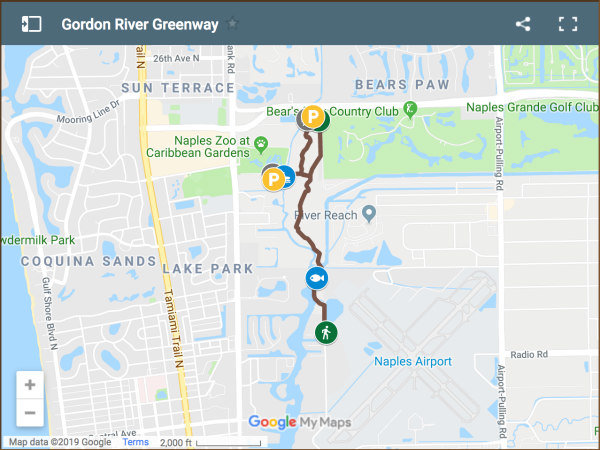 A popular way to explore nature in a virtually unspoiled setting, the Gordon River Greenway continues to delight locals and visitors alike in Naples. Stretching around two miles from Golden Gate Parkway to Downtown Naples, the greenway offers room for biking, hiking and even kayaking as it links up the opportunity to more easily view native plant life, birds, animals, mangroves and other natural attractions of the region.
The vision for a greenway of sorts first emerged more than a quarter of a century ago. It wasn't until more recent years, however, that the plan received the necessary funding. In the mid 2000s, Collier County voters agreed to a $40 million bond referendum, allowing for the purchase of more than 150-acres of land, including wetland and upland habitats along the river and the Naples Zoo.
Opened just a few years ago, the Gordon River Greenway now links up the city to The Conservancy of Southwest Florida and the Naples Zoo. It will also soon link up with the new Baker Park. Currently under construction, the planned riverfront park brings with it a future performance stage and plenty of green space.
The greenway itself, though, is already a popular attraction in itself. It's common to spot everything from fish and turtles to amphibians and birds while hiking, walking, jogging, biking or even kayaking through the area. Right in the heart of Naples, the location offers the unique advantage of presenting a more natural setting, without even leaving city limits.
At home in the area you'll find alligators, raccoons, bobcats and frogs. You'll also possibly spot hawks and bald eagles, songbirds and owls. Complete with paved trails, a boardwalk and even a launching point for paddleboards, kayaks and canoes on the Gordon River, the greenway provides easy access for everyone to enjoy.