Doctors Pass Dredging Underway
Posted by Mark Washburn on Tuesday, November 12, 2013 at 10:52 AM
By Mark Washburn / November 12, 2013
Comment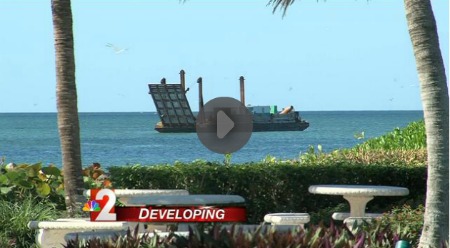 Boaters have a reason to celebrate. Dredging has begun at Doctors Pass after Collier County officials have issued a permit to proceed in an effort to improve conditions since beach erosion has hit this area hard in Naples, especially in the past year. This waterway is one of the most heavily used for boaters in Naples to come in and out of.

Heavy dredging equipment, including several barges, is stationed at the southern end of Doctors Pass at the southern entrance to the beach off Gulf Shore Boulevard. The Doctors Pass dredging project is a massive one, and is expected to move 36,000 cubic yards of sand from the center of the Pass back onto the shoreline in coordination with a separate larger project to add more sand to the shoreline from Doctors pass to areas farther north in the county from a mine north of Immokalee. The dredging project will cost more than $700,000 paid for by the Collier Tourist Development Council.

The new sand coming by truck from Immokalee to Horizon Way will be coarse, but the softer sand from Doctors Pass will go on top of it. According to Naples Mayor John Sorey, the softer sand tends to erode faster. The dredging will continue 24 hours a day, every day for four weeks. The dredging of Doctors Pass comes after many boaters in Naples were getting grounded as the Pass became too shallow and the shoreline continued to erode. Heavy storms over the past year quickly filled the channel with sand, and made the water too shallow for boats. Doctors Pass provides access to several boating centrc Naples neighborhoods including Moorings Bay condos Outer Doctors Bay condos and Moorings Bayfront homes.