Delnor-Wiggins Pass Nabs Top Ranking for 2105
Posted by Mark Washburn on Wednesday, June 3, 2015 at 10:29 AM
By Mark Washburn / June 3, 2015
Comment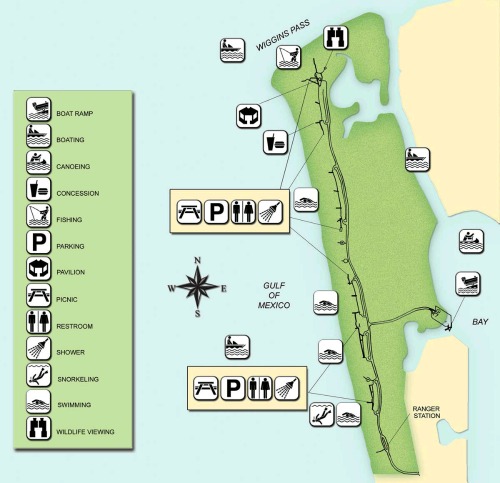 Dr. Beach named Delnor-Wiggins Pass State Park in Naples this month on its annual list of "Top 10 U.S. Beaches for 2015." Dr. Beach puts together an annual list based on 50 criteria, including water and sand quality, beach safety, no-smoking policies and environmental management. Dr. Beach's 25th Annual Top 10 U.S. Beaches list was released last week. Florida won the coveted competition for most beaches listed with four.

Delnor-Wiggins Pass State Park, located at 11135 Gulfshore Drive in Naples, is a popular destination, and home to a pristine stretch of beach. This tropical beach paradise enjoys picturesque peaceful views of the Gulf of Mexico, and a variety of shorebirds and wildlife that come here each year. Visitors come to snorkel the reef, sunbathe, bird watch, fish, hike, picnic and probe the beach for seashells. There are designated areas for fishing. Boaters will be happy to find the launch area into Turkey Bay accessible to navigate the delicate natural estuaries of the Cocohatchee River leading to the Gulf of Mexico. Park rangers and volunteers provide guided tours and programs. Naples Beach Adventures has a concession stand on the beach with food and beverages in addition to rentals for paddleboards, canoes, kayaks, beach chairs and umbrellas.

While Hawaii's Waimanalo Bay Beach Park took the top honors for its stunning white coral sand beach, Delnor-Wiggins Pass State Park in Naples came in at #9 in the country. Dr. Beach praises this 166-acre beach park on the Gulf of Mexico for its white sand beach and plentiful seashells. Visitors to Delnor-Wiggins Pass enjoy a host of recreational activities like paddle boarding, kayaking and canoeing. There is a convenient fishing area and a boat launch area as well. The other Florida beaches on the Top 10 list are: Barefoot Beach, Bonita Springs; St. George Island State Park, Florida panhandle; and Cape Florida State Park, Key Biscayne. Dr. Beach (a.k.a. Dr. Stephen Leatherman) is Professor and Director of The Laboratory for Coastal Research at Florida International University. He is also an author or editor of 16 books.