Collier The Healthiest County in Florida
Posted by Mark Washburn on Wednesday, January 15, 2020 at 3:01 PM
By Mark Washburn / January 15, 2020
Comment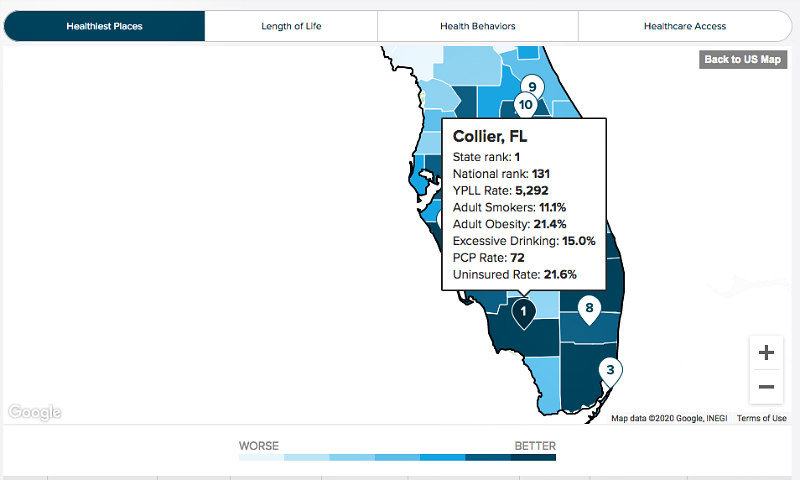 Graphic: smartasset.com
Not only is it one of Florida's most popular places to live, but it turns out Collier County is also one of the healthiest. In fact, Collier County was recently named one of the healthiest counties in the entire State of Florida.
The ranking comes from a joint analysis by the Robert Wood Johnson Foundation and the University of Wisconsin. Researchers looked at a series of factors to come up with the rankings, including quality of life, economic factors and social factors.
In the latest ranking, analysts put Collier County once again in the number two spot, helped by local longevity and quality of life. The county has ranked high on the list for several years. Collier County took the number one spot just in terms of longevity. The average life expectancy is nearly 86 years. The county took second place for quality of life.
The ranking shouldn't come as much of a surprise. Several other studies have put Naples, in particular, high on the list of the nation's healthiest and happiest cities. Local health workers also point to the county's efforts in making healthy decisions.
Area leaders rave about local farmers markets, plus the county's access to parks and recreation. They also point to the launching of Blue Zones in Collier County a few years ago.
The project aims to help foster a healthier population. Public health leaders and elected leaders use research to learn where to focus on making improvements. Collier County boasts a lower population of smokers and a lower population of obese adults than some other counties in Florida.
The results of the study are in line with another study promoted by SmartAsset. In its own analysis, the website ranked Collier County in first place for the State of Florida in terms of "America's Healthiest Places".