Collier Offers Retirees Bang for the Buck
Posted by Mark Washburn on Monday, October 16, 2017 at 6:14 PM
By Mark Washburn / October 16, 2017
Comment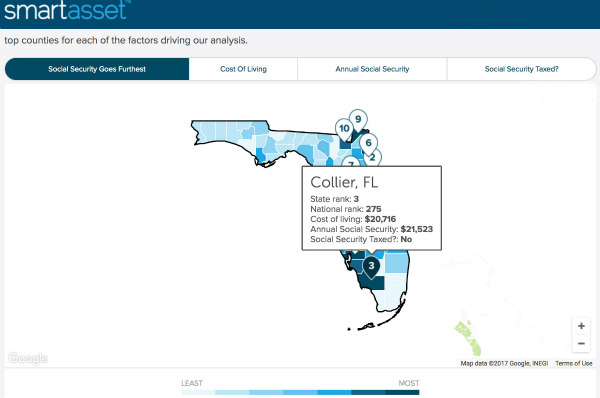 When it comes to stretching your retirement income, it seems Collier County is nearly at the top of the list for places to live. According to a recently released ranking from the personal finance website SmartAsset.com, Collier County is one of the top counties in the state in terms of how far Social Security reaches.

The region ranks an admirable number three of the list of the top Florida counties, when analyzed by SmartAsset on how far the average Social Security income stretches in covering a retiree's basic necessities. While the ranking found the average cost of living around $20,000, Social Security payments in Collier average just slightly higher, good news for those already retired, contemplating retirement or contemplating a move to the area.

It's just one more positive indicator that Naples is a great place for retirees to live. Last year, business magazine Kiplinger designated Naples as one of the 'Great Places to retire for Your Good Health'.  

In this particular ranking, Kiplinger used online real estate data to determine great neighborhoods filled with parks, trails, golf courses and quiet streets, along with those convenient to pharmacies and hospitals. Naples ranked first for its size, and writers attributed some of the attraction to the area's beautiful homes and fabulous beaches.

An easy walk or bike ride away from things like restaurants and grocery stores, golf courses are abundant in the area too, as is a diverse real estate market. In addition, the Naples area is filled with specialty stores, cafes, boutiques and galleries.

The two separate rankings are hardly the only high marks that Naples has received in past years. The 2014/2015 Gallup-Healthways Well-Being Index placed the metro area in the very top spot in regards to residents' views on things like community, financial security and health. As well, Naples has also earned top grades in the past for its air quality, as designated by the American Lung Association.